T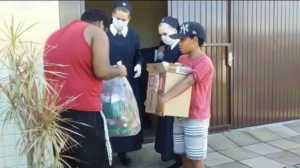 he "Sunny Corner" children's center is located in a poor district of Camobi, a suburb of Santa Maria/Brazil.
About 1,000 families live here in extremely poor conditions. Most of the adults are unemployed. Their huts are located in the swamp area, and when it rains heavily, they are flooded. There is a lack of everything that is necessary for a dignified existence: food, clothing, medicine. It is the children and the elderly who suffer most.
Sister M. Vitoria Koch, a missionary sister from Germany, became aware of this need. In order to save the children from a life on the streets and to protect them from drugs and violence, she supported the establishment of the children's center. It was inaugurated in 2008.
Here about 100 children aged between seven and twelve years are looked after outside school hours. Most of them do not have financial and material necessities. Above all, however, they are hungry and they are looking for love and understanding. In the children's center they also learn to pray and learn more about faith.
Since the center is currently closed due to the Corona pandemic, the sisters are looking for other ways to help the families, for example by distributing food packages.