What is Schoenstatt? How did it come about?
A Place
Schoenstatt is a place. To be more precise, it is a district of the city of Vallendar near Koblenz. In times past it had been the site of an Augustinian cloister. At the beginning of the 20th century, the Society of the Pallottine Fathers came to this place and soon built a school for boys who wanted to become priests and missionaries in their community. With that, the history of "new" Schoenstatt began.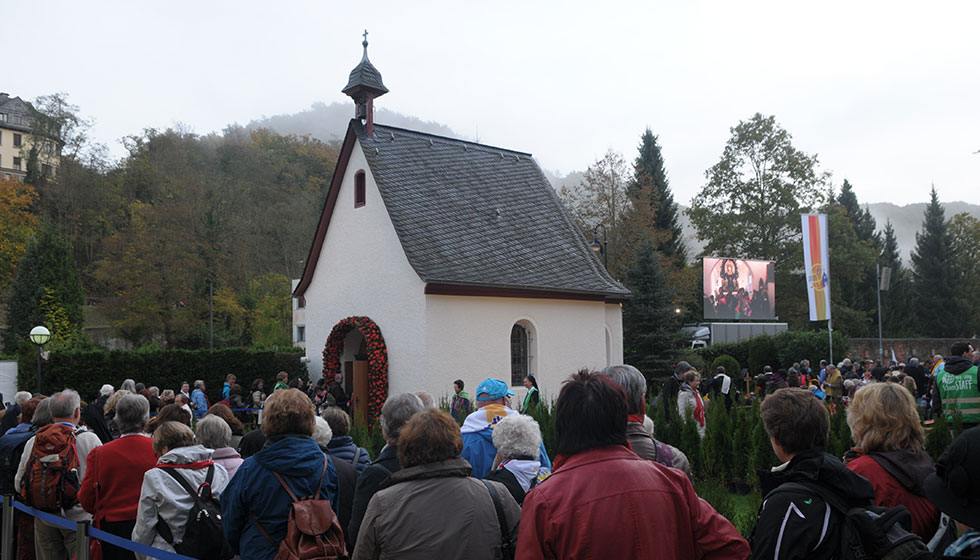 A Marian Place of Pilgrimage
Schoenstatt is a Marian place of pilgrimage. Unlike many other Catholic pilgrimage places, it did not originate through "spectacular" miracles and signs.
On October 18, 1914, Father Joseph Kentenich, spiritual director at the Pallottine House of Studies, together with his students, sealed an original covenant of love with Mary for the first time. They gave her the prayers and sacrifices of their daily lives, their striving for true holiness. And they asked the Blessed Mother to fulfill her task as Mother and Educator for many people from the little St. Michael's chapel in the valley of Schoenstatt.
From this small beginning a place of grace came into being that is now known throughout the whole world and that since 1943 has been replicated in many countries. Today there are approximately 200 Schoenstatt Shrines that have been built as exact replicas of the "Original Shrine" in Schoenstatt and that exist from the same life process, the lived "covenant of love" with Mary.
Mary is venerated in Schoenstatt as "Mother Thrice Admirable, Queen, and Victress of Schoenstatt." The picture of grace is a work of art by Luigi Crosio.
An Ecclesial Movement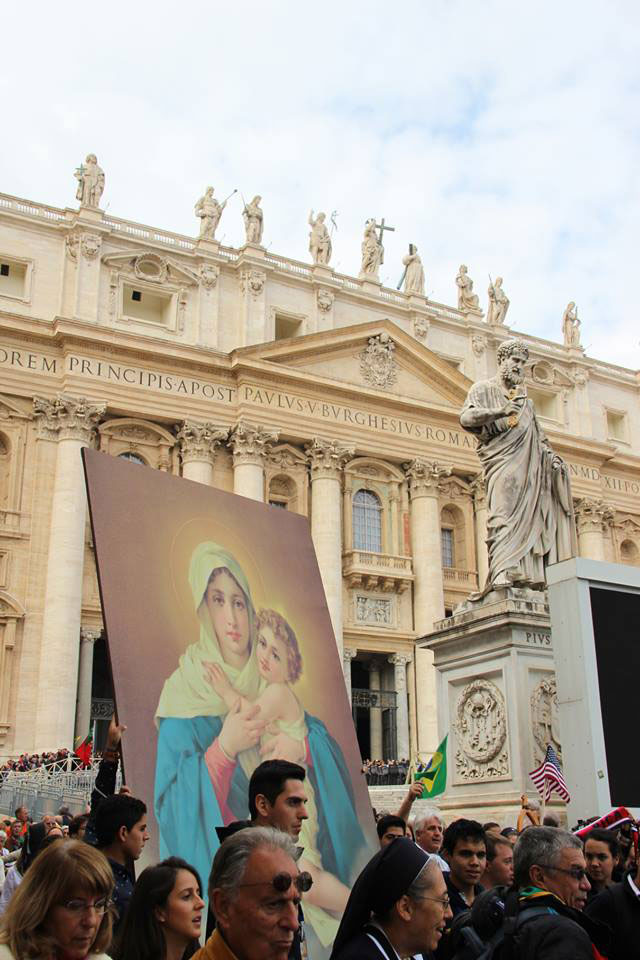 Schoenstatt is an ecclesial movement, a spiritual family in the service of the Church. Women and men, lay people and priests, families, children, and youth have their place in it. There are more than twenty autonomous branches with various forms and degrees of community life and corresponding obligations. Numerous apostolic, pedagogical, and social initiatives have been taken up by individual members or communities. The bond of unity and source of strength for all is the covenant of love.
Schoenstatt as a movement wants to "move something." Mary gives her covenant partners a share, so to speak, in her abiding motherly task to bring Christ to our times. This covenant experience should also mark today's culture.
A School of Holiness
Schoenstatt is also a school of holiness. Its new type of spirituality is rooted in Church tradition:
in a life out of the covenant with God as it is founded in the Bible and realized in the sacraments of the Church
in faith in the "God of life," in the loving providence of God, who guides our life and our history according to his plan of love
in the consciousness that each one is personally chosen and given a mission that gives our life a goal and orientation.
The pedagogy in this school of holiness focuses on self-knowledge and effective self-education as a means to assist the unmerited gift of the grace of baptism to unfold in its entire fullness. The goal of this education is to form free and mature personalities who possess generous love, who know that God loves and guides them as his children, and who seek to respond to this gift in freedom.