Three Schoenstatt Sisters of Mary who lived in Burundi a long time are now back in Switzerland.
They are Sister M. Theresiane,  Sister M. Janine and Sister M. Josianne.
But their hearts remain with the people in Burundi (Central Africa)! In the texts that follow they share with us their rich experiences.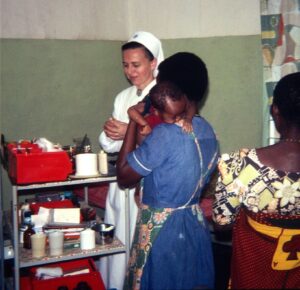 Sister M. Janine Ohnmacht:
The women have a special nobility
Even as a child, Sister M. Janine was fascinated by photos from Africa.  She writes:
"The good Lord 'knocked' on my door often and early on. I learned about the community life and the spirit of the Schoenstatt Sisters of Mary in nursing school. Among other things, what appealed to me was that Marian modality was fostered. The Schoenstatt Sisters of Mary were also active in the missions! This was the right place for me and to this day, I have never regretted [my decision]."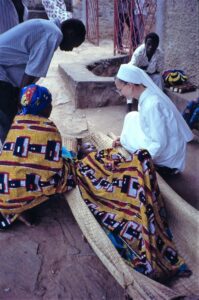 Sister M. Janine lived in Burundi for 47 years. She worked in the hospital as a nurse especially in the treatment of wounds and caring for lepers.
"I was concerned with the welfare of the people, the sick."
Later she was a sacristan for the Schoenstatt Shrine and did housework–also in the first, very simple house of the sisters in Mutumba, Burundi.
"What was important to me in fulfilling all the tasks
[I did] was that I could give on our faith to the people."
What she liked particularly during her long time in Burundi was the mentality of the Barundis—their joy and how they celebrated festivals. She also appreciated their great gratitude for everything she could do for them. Interesting and touching is also the statement of Sister M. Janine that
"The women have a special nobility!"
The two wars were a great burden and test for the people in Burundi and also for the sisters. They experienced both wars first hand. But in spite of that, none of the sisters wanted to leave the country or the people there. It was difficult for Sister M. Janine to see the needs [of the people] and to not be able to help enough.
Adjusting again to life in Europe was not easy for her. Most of all, she missed the mentality of the people in Burundi, her co-sisters there, and the Schoenstatt Shrine of Trust. But at the same time, she appreciates living in the community and is happy, as she wrote, "to be a Sister of Mary".
Continuation: Sister M. Josianne Belau