Three Schoenstatt Sisters of Mary who lived in Burundi a long time are now back in Switzerland.
They are Sister M. Theresiane,  Sister M. Janine and Sister M. Josianne.
But their hearts remain with the people in Burundi (Central Africa)! In the texts that follow they share with us their rich experiences.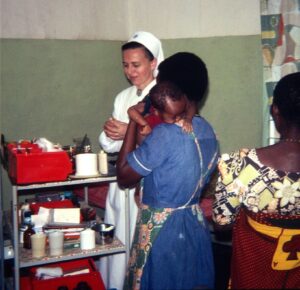 Sr. M. Josianne Belau:
On the road—day and night
More than 50 years ago, Sr Josianne heard that our sisters were opening a new mission station in Burundi. She wanted to help with this new beginning and so she volunteered for this mission in Central Africa. Thus she was in Burundi for almost fifty years, never regretting it—also never regretting that she became a Schoenstatt Sister of Mary. Asked why she was happy to be a Schoenstatt Sister of Mary, she answered:
"Since my youth, I have known the spirituality and mission of Schoenstatt. I was able to get to know the founder, Father Joseph Kentenich, who was a transparency of our Father in Heaven and who was a way to Him."
From the beginning, Sister M. Josianne helped everywhere. She wrote: in the kitchen, in the house, in the sewing room, with the maintenance of the turbine, driving, and so on. She directed a handicraft school for girls—and to some extent boys—one of them now has his own tailorshop.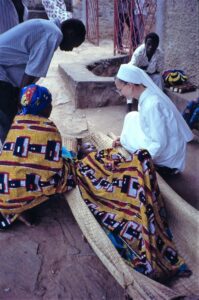 For many years Sister M. Josianne sewed the white dresses for our sisters and taught the sisters from Burundi how to cut fabric and to sew. Today, the sisters from Burundi sew all of their clothing! Very often Sister M. Josianne was on the road—day and night, in rain, during the wars, on the streets with many potholes. She picked up sick people and brought them to our sisters' hospital in Mutumba or brought ladies with high risk pregnancies to the [hospital in the] city.
Sister M. Josianne appreciates the simple, contented, unpretentious people of Burundi. Helping them to help themselves was particularly important to her. She wanted to help and to serve the people–above all, the "happy, simple, open children".
When asked if there was something that was difficult for her, she just says, "Yes, the Kurundi language is very difficult, and I had little time or opportunity to learn it correctly".
But, she experienced one miracle after another
in Burundi!
Understandably, it was not easy for her in the spring of 2023 to come back to Europe after fifty years. She misses, most of all, being with the people and their warm cordiality.