Father Kentenich, testimony
of the boldness of TRUST!
September 15, 1968. After a long life dedicated to the Work and the mission God had entrusted to him, Father Joseph Kentenich departed for eternity. In faith, we believe that he is with God and, in God, he remains with us. He remains with us in the Work he founded, with his teachings, his example and his testimony. A testimony of the boldness of TRUST!
He taught us that "Being a child before God is the way to heaven! Childlikeness is simply the way to overcome the problems of our time."[1]
If we look at his priestly life – which was not spared from sacrifices, privations and sufferings – we see how he was the son who entrusted himself entirely to the divine care, throwing himself fearlessly into the arms of the Father!
Fr. Kentenich lived with the deepest trust, even in the hell of the Concentration Camp in Dachau, as he once recounted on one of his world tours: "I did not know the slightest fear. This is quite understandable: I had given everything away! Such an attitude requires a certain boldness. The internal detachment from things makes us find the right measure, which does not show the least fear. I also felt no fear in my heart. I thought: everything that happens in the Concentration camp is unimportant. It is not the essential thing. The central thing is total detachment from oneself and radical abandonment to God. This makes up the free personality […].
"Where does this victoriousness come from? The source is instrument awareness and detachment from everything. After I detached myself from everything: people, success and the existence of the Family nothing remained but the conviction; now I am going to meet a time of wonders, of divine magnificence, such as I have never yet experienced."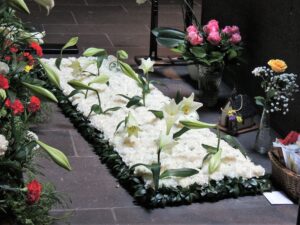 From eternity he wants to show us the ultimate security is in God, our Father.  He taught us with his life that childlikeness is the condition for achieving victorious confidence!
On the day of his death, we give thanks for the example of his life.  We ask Fr. Kentenich to intercede with God for the worries and afflictions of all people who talk to us or come on pilgrimage to a Schoenstatt shrine.
May we also be simple and daring children of a father who lived the BOLDNESS OF TRUST!
[1] Kentenich, Joseph. Child before God, Vol. 1, p. 38.