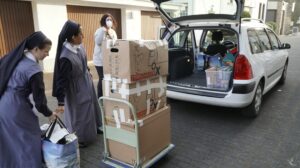 … for Refugees
from Ukraine
In the past weeks, deeply moved, we have been following the flight of many people from Ukraine. Meanwhile, our co-sisters and the Schoenstatt Fathers in Poland have given a temporay home to a great number of refugees. (The Seriousness of the Covenant of Love)  Now we Schoenstatt Sisters of Mary and other Schoenstatt communities at the original pilgrimage place of Schoensttatt are likewise taking in people from Ukraine.
 Solidarity is great
"In recent weeks we have been experiencing how great the solidarity is with the people who have to leave everything behind. Many people have responded generously to the call for donations on schoenstatt.de and s-sm.org. In this way we were able to forward € 25,000 in donations to our co-sisters in Poland", imparts Sister M. Hedithe Maximini, the financial administrator of the Schoenstatt Sisters of Mary.
Opening Houses
The number of women and children who are fleeing war-torn Ukraine to Germany is increasing daily. Thus it is self-understood that we Schoenstatt Sisters of Mary here in the original pilgrimage place of Schoenstatt thought it over and found ways to help concretely: In the House for Pilgrims in the vicinity of the Original Shrine an entire floor with 15 douple rooms was made available. Also, the Retreat and Convention Center Marianland is making rooms available.
Active cooperation on site
Some things still need to be prepared before we can offer a home suitable for children and can provide everyone with the most necessary things for life. The services offered by Beacon of Light:* are a valuable help in this regard: Since the beginning of the coronavirus pandemic, this (Schoenstatt) association has its large-scale "Stork's Nest" play area in a hall in the House for Pilgrims. The children of the refugees can play and do handicrafts there.
Other Schoenstatt communities likewise are preparing places for the refugees to stay. All these efforts are supported by the initiative Round Table at the place of Schoenstatt's origin and by the association bewegenswert (worthy of action). In creative cooperation, needed furniture and household appliances are transported and installed. Supplies for cleaning and food staples are collected so that the families can live quite independently. Volunteers are still needed to accompany the refugees to authorities, etc.

WELCOME!
Understanding despite language barriers
A special challenge is the language because here in Schoenstatt only a few people speak Russian or Polish. Still, we hope to convey to the Ukrainians that we really want to help them and give them a little sense of home. The atmosphere of the Original Shrine in which they live will surely contribute to this, because from her Schoenstatt Shrine, Mary, the Three Times Admirable Mother, Queen, and Victress of Schoenstatt gives the special grace of having a home.
* Beacon of Light is a pregnancy center sponsored by a Schoenstatt community of families that assists women and their babies (children)