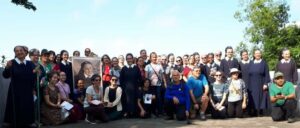 The commemoration of the homegoing of Sister M. Emilie Engel into eternity
is the commemoration of an "an angel without wings" whom God the Father sent to Schoenstatt.
Sister M. Emilie has brought the message of God's love to many people who are helpless and in need because she experienced these needs herself.
[Among other things], Father Kentenich said this about Sister M. Emilie:
"Perhaps Sister Emilie has a special mission in heaven for present-day humankind that is driven to and fro by anxiety. Perhaps it was in God's plan that she had to experience the same difficulies to prepare her for it. Perhaps he wanted to awaken her compassion through the many similar experiences and show ways leading out of the great distress of the time through her example… (Margareta Wolff, My Yes Remains, p. 221)
Despite the steep pathway that she had to walk, she found strength in the heart of God and trusted in the directives of Father Kentenich, who was a father to her and a transparency of God.
From heaven Sister M. Emilie continues to be "an angel without wings" who teaches us to blindly trust the providence of God.
May her radiance be a lighthouse strengthening the hope in us that God has likewise prepared a special mission for us!