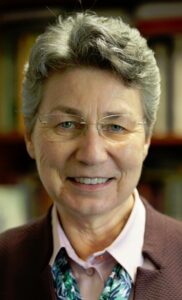 Today on the founding day of the Schoenstatt Sisters of Mary, we may share some joyful news:
On September 29, 2021, it was officially announced in Rome that
Sister M. Isabell Naumann
was named
a member of the International Theological Commission.
Sister M. Isabell is the provincial assistant for Australia and the Philippines. She is the president of the Ecclesiastical Faculty of Theology (for Australia, New Zealand, and Oceania) at the Catholic Institute of Sydney, Professor Ordinarius of Systematic Theology; she is likewise extraordinary Professor of Systematic Theology at the University of Notre Dame in Australia.
We Sincerely Congratulate Sister M. Isabell
for this great honor and gladly offer her our prayers for her new responsibility, which she will carry out not only within the framework of her theological insights, but also as a member of our secular institute. It is for us a sign of Divine Providence that one of our co-sisters was nominated for this task precisely now.
The Task of this Commission,
which collaborates with the Congregation for the Doctrine of the Faith, is to support the Holy See in examining more weighty questions of doctrine.
The commission consists of theologians from various schools and nations distinguished by their scholarly qualifications and faithfulness to the magisterium of the Church. The members, whose maximum number is limited to 30, are suggested to the Pope by the Cardinal Prefect of the Congregation for the Doctrine of the Faith after inquiring with the Bishops' Conferences. The Pope appoints them for five years.
The commission gathers for a plenary assembly at least once a year. In addition, meetings of subcommissions can also take place. The results of studies are presented to the Holy Father and handed over to the Congregation for the Doctrine of the Faith.
Interview with Sr. M. Isabell Naumann
Testimony of Sr. M. Isabell on "100 Years of Women in Schoenstatt"