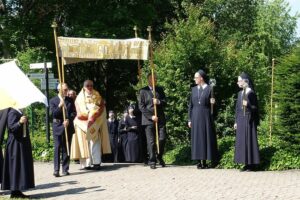 Today is a very special day in which
Jesus walks through our streets!
But, sadly, due to the pandemic that grips humanity, in many places this celebration cannot take place or can take place only in a very simple manner. It is not possible to make the traditional flower carpets that decorate our streets for the festive procession on Corpus Christi. Nevertheless, we want to dedicate this special day to praising the Blessed Sacrament, to Jesus who gives himself in the Sacred Species of Bread as food for the life of our soul.
Today he doesn't want merely to be visited
Today he "leaves" the altars of our churches and goes onto the streets of our cities to search out his own: those near and those estranged; those who no longer remember him and those who are very closely united with him. He doesn't measure and judge us according to our standards, but he gives himself in infinite love. This is the Christ who passes by, who wants to look at us, to meet us, to heal our wounds, and to know our struggles.

Our life is like a pilgrimage, a procession
Every single moment of our life—blessedly happy or difficult—is a station, an altar. God meets us there and has a message for us. He wants to listen to us, to know more about us, about what is stirring in our hearts. He wants us to meet him at the altar of our life, to bless us there, and to strengthen us with his grace and with his love.
As Jesus in the Eucharist is walked through our streets or as we spend time in his Presence in our churches on this day of grace, we want to "adorn" the path of our life so that our Lord can rejoice when he processes before us! Let us adorn his path with what we have and carry in our hearts even if it is merely the many challenges that we face, the love that motivates our lives day after day and that sustains our hope, our joys, everything; let us place it all on the flower carpet of our lives when the Lord is processed before us!

Mary Mother of God, a living monstrance
Carried in a monstrance, Jesus leaves the tabernacle and goes in procession through our streets so that he can be very near to us! This reminds us that Jesus' first procession through his country was in the womb of his mother, the Virgin Mary. After the annunciation of the angel she traveled through the hill country to her relative Elisabeth. She was a living monstrance because she was carrying Jesus, the Son of God, in her virginal womb! She traveled through the mountains, and wherever she went, He who was still so young, blessed all of the people around him!
Today Jesus also invites us to walk with him on paths lined with people, to be a small monstrance like his Mother, and to bring to the whole world, to the people around us, a little of his love, new hope, and the certainty that he will not abandon us, but rather, will always accompany us on our journey through life!