We all have a suitcase in our life,
– either large or small.
Sister M. Emilie liked to remember a sermon about the suitcase of our life and she applied this image to her own life.
God gives each person a suitcase for life; the size of the suitcase corresponds to a person's needs and is filled with unique capabilities, joys, tasks, suffering … Each person can add many things to the suitcase according to their wishes and needs. But what happens when the suitcase is full? Our good Lord begins to empty it. He takes one thing, two things, three things which he needs so that a person will become empty of SELF and filled with the Father's love. Sister M. Emilie also had a suitcase that the dear Lord slowly emptied.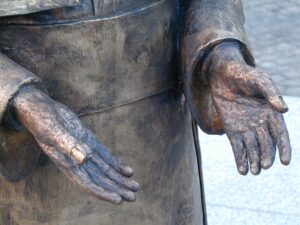 In this sermon about the suitcase, the priest spoke of the solemn hours when we enthusiastically surrender ourselves completely to God, readily putting all of our capabilities and talents into the "suitcase" and then placing the suitcase into God's hands. We give him everything and he can dispose of it. Our dear Lord joyfully accepts everything as a beautiful gift.
But he says, "I accept everything and I am happy about the things you are giving me in this suitcase. Now I am returning it to you. Whenever I want, I will take out of it whatever I want."
Sister M. Emilie placed her freedom into the hands of God. She could do this because she knew she was safe in the hands of God. Her serenity and inner freedom rose from this security. She came to this conviction through the founder of the Schoenstatt Work, Father Joseph Kentenich.

"Suffering is always a proof of the Father's love.
God is a father. God is good, and everything he does is good."
Sister M. Emilie's method has become a help for many people. She believed that "many people do not understand God's  guidance and dispensations. It is sufficient for us to have the certainty that he is love and goodness and always knows what is best for us."
Her childlikeness before God and her faith in divine providence enabled her to hand over everything from her suitcase that our dear Lord needed. Sister M. Emilie did not refuse him anything. She remained faithful to her "Yes, Father" until the final moment of her holy life.