"It is time to move forward!"
These were the last words of St. Teresa of Ávila. They could also be the last words of our founder, Father Joseph Kentenich. Even if he did not pronounce these words, he expressed them through actions. Our father returned home to God! Divine Providence gave us many messages through his death.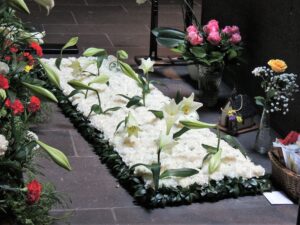 We know what happened that day: it was planned that, after the celebration of the Holy Eucharist, he would go down to the auditorium of the Adoration Church to give a talk for a province of the Sisters of Mary. He had a few key words about what he wanted to say to the sisters, who were waiting with open hearts for his message. But then God intervened.
The superior general, Sister M. Emanuele Seyfried, came to the sisters and told them: "God has called our father home!" Although they could hardly believe it, the sisters then prayed the rosary together that the founder would rest in peace.
His life goes on
More than 50 years have passed since then and his voice illuminates the lives of many people all over the world: because the effectiveness of people who stand up for God and souls throughout their lives does not end with death: "Love never ends "(1 Cor 13: 8). The truth of this experience is confirmed again and impressively in the person of Father Kentenich.
Although his earthly life came to an end on September 15, 1968, his effectiveness and fruitfulness have not decreased since then, but extend even further than before.
No less than before he develops its activity and fruitfulness in his foundation from eternity. The communities he founded proclaim his message and carry his work to more and more countries. After his death, Father Kentenich continues to have a more visible and profound effect through his life. Besides his love for God and his neighbor, it is his love for the Church that made him an excellent example.
Testimony of an archbishop
The military archbishop of Brasília, Dom Fernando Guimarães, said of Father Kentenich: "First of all, I see in him a priest who passionately loved the Church, who sought to live his priestly vocation to the full and who, despite the many difficulties and trials he faced throughout his long life, never lost confidence and obedience toward his superiors and the Church. In my view, he is a model of priestly life, a model of devotion to Mary and of a piety that opens up in a missionary perspective so that his work is always alive in the Church in a living and effective way – always modern. "
In the Archbishop's opinion, the Church receives two main contributions from Father Kentenich: "In my opinion, the main contribution of Father Kentenich, besides the example of his life, is above all his work.
His gaze encompasses priests, consecrated persons, families, and the baptized in general, each devoted to the covenant of love. Schoenstatt is a presence on all levels of the Catholic Church, a presence that proceeds from Mary and turns to Jesus with a view to salvation and the building of the kingdom of God. "
For the building of the kingdom of God it is necessary to move forward, as Father Kentenich expressed in his last message to the Schoenstatt Family:
"With hope and joy, confident in the victory, we go with Mary into the post-modern age!"
This is how Father Kentenich lived the last moments of his life:
Liturgy of the day:  Feast of the Seven Sorrows of Mary
Message: We have to act to please her
The last gospel that he proclaimed: "Behold your mother!"
The last antiphon of Communion: "Instead, rejoice in sharing in the sufferings of Christ; for in this way you can also rejoice with joy at the revelation of his glory" (1 Pet 4:13)
His last activity: to enable the encounter with Christ in the Eucharist.
Final words for the congregation: "Go in peace!"
Final words to a person: The invitation to lunch with him.
Last gesture: giving a blessing!
Source: Father Joseph Kentenich: A Life for the Church, Engelbert Monnerjahn