Discover the Beauty of Being a Woman
A conversation between Sr. M. Linda Wegerer and Sr. M. Elwira Kedzia, Schoenstatt
Sr. M. Linda: Sr. M. Elwira came to Schoenstatt from Bydgoszcz in Poland almost seven years ago. Can you still remember how it was for you?
Sr. M. Elwira: I remember that very well. I was happy that I came to the opening of Schoenstatt's anniversary year and, to put it this way, I had great respect for my new role.
Sr. M. Linda: Was it already clear to you at the time what this task entailed?
Sr. M. Elwira: No! – It became concrete when participants from the pilgrimage circles of the Polish mission contacted me and asked: Sister, when are you coming to us? Yes, and then I had to figure out how to do it. Which meetings with which content do I offer? What can the external process be like?
It was clear to me from the beginning: I want to bring Schoenstatt to people. – So I knew that. But I still didn't know how that could be done in detail.
Sr. M. Linda: Since I have followed your activities a little in the past few years, I can say that a lot has come of these initial considerations. Can you give us a few examples?
Sr. M. Elwira: My main job is to meet the pilgrims. I take care of them here in Schoenstatt and in the Polish missions all over Germany.
Here in Schoenstatt I also offer conferences for families and women. And I accompany Polish or Russian speaking pilgrims. My favorite project is the Day of the Covenant, which I have already told you about here on the homepage. (see here)
Sr. M. Linda: So if Schoenstatt is your official place of residence, you will be traveling all over Germany for many days of the year. And I have to say that you have been to many more German cities than I have.
Sr. M. Elwira: Yes, that's right. I am traveling all over Germany. But I don't see much of the cities because my path normally leads from the train station to the event location and back again. And yet I would like to say: I experience the beauty of the places in the people who live there.
Sr. M. Linda: This is a very nice statement! – Can you tell us something else?
Sr. M. Elwira: For me, everyone is a wonderful secret. Even if I am happy about the good number of participants, I can still experience how every individual is important. If a person can open up to a life with God, it is a gift for me, a grace of God.
And I am very grateful that God sends me good co-workers. You are really a gift from God to me! If you can't help in this corona crisis as usual, you are really resourceful in how you can support me.
As a result, my initial horror: "Such a big task and only one Sister of Mary" has been significantly reduced!
Sr. M. Linda: In addition to everything else, a lot of materials are created in your home office here in Schoenstatt! Is there a special initiative for the 100th anniversary of the Schoenstatt women's movement?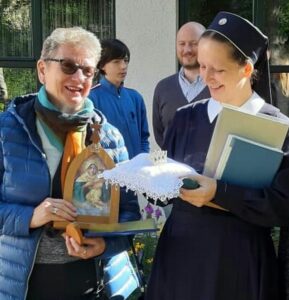 Sr. M. Elwira: Yes! I write an impulse every month, which about 150 women across Germany receive by email. These are women who are interested in Schoenstatt's spirituality and are grateful for suggestions that they can work through – in their original way – themselves.
It helps to discover the beauty of being a woman with and with the help of the Blessed Mother. Every month we look at a flower and ask ourselves: what does it tell us about the beauty of women?
Sr. M. Linda: Which flower is on now?
Sr. M. Elwira: The Water Lily! Its deep roots remind us: When we draw from the deep, we discover our beauty more and more. Their radiant bloom reminds us of the beautiful, the joy, and the happiness. If we are happy ourselves, we can make others happy.
For example with a smile!
Sr. M. Linda: Sr. M. Elwira, you have already fulfilled this May resolution. You made me happy through this conversation, through your sharing.
Once again I was amazed how well you speak German!
Unfortunately, my Polish language skills are limited to just one word. But that fits very well now!
Dziekuje! Thank you!