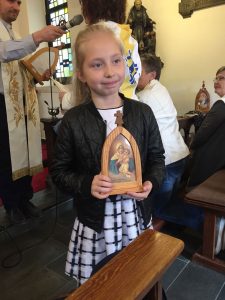 Covenant Day for the members of the Polish Catholic Mission in Germany on 28.04.2018 in Schoenstatt
Jubilee gift for the founder
In the Kentenich Year, we wanted to make a jubilee present for Schoenstatt's founder: a Covenant Day.
Many people have been involved in the preparation of this day – they have put forward their suggestions and practical help. Above all, everyone prayed a lot. And then we were able to experience the wonderful guidance of the Blessed Mother and Father. So the day has become a great gift for us.
We were able to experience what was the motto of our Covenant Day:
Be our leader in the new time!
A total of 350 people came from all over Germany. Members of the Polish Mission in Berlin were just as represented as those from New-Ulm, Hamburg, Essen, Nuremberg, Dortmund, Dusseldorf…
The group from Koblenz even came with a typical Polish dance group.
A special gift was that six people from Poland arrived and brought the Auxiliary.
Unity in the Covenant of Love
The program began at 10:00 in the aula of the Adoration Church. Testimonies of life out of the covenant of love and of how Father Kentenich is our faithful companion through life, together praying and singing and including the dance group, created a beautiful and deep atmosphere and allowed community to emerge – unity in the covenant of love.
After the lunch break there was a station in the Founder Chapel and afterwards the solemn Holy Mass, in which we brought our common gift for the feast: the newly created Schoenstatt prayer book, a gift for our father and founder and also for us. It helps us to cultivate the Schoenstatt Spirit in the Polish Catholic Missions.
The day ended with a procession to the Original Shrine. There, five people made the Covenant of Love for the first time. And we all renewed it in the joy and gratitude of being at the place of origin.
Three pilgrim shrines were sent out. One of them now travels in a children's group, which is a special joy for us.