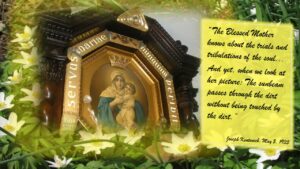 The pure eyes of the Blessed Mother radiate a love that penetrates into our hearts and shines through them.
The personal relationship with the Blessed Mother has guided Father Kentenich from early childhood. Thus, the love for her was his inspiring life force that was transmitted to others. The love for Mary is an immense supporting life force. I experience it every day, many experience it.
A monk in love with Mary advised his friend who stayed in the world: If you really want to fall in love happily and be sure not to be disappointed, then fall in love with Mary!
Yes, she is reliable!
May is a month that speaks of love through its freshness, through the living nature and its full bloom. It speaks of Mary.
Before my eyes I have seen her – THE GREATEST LOVED ONE who ever lived on earth because she loved Love itself – God who is Love.
She is the most outstanding image of God, the most beautiful flower of humanity. Throughout history she has been given new flowers by people who, like her, have fallen in love with God, who draw new love from her every day for their lives.
I want everyone to discover Mary – and to discover her anew every day.
Many have discovered Mary in the Schoenstatt Shrine. Those who have fallen in love with Mary come here whenever they have time: Sometimes daily – to meet HER! Just like an older couple: In silent dialogue they look at the picture of the Blessed Mother, her pure eyes, and they adore her Son. Every day they take the pure water of love into their hearts. And from their attitude, from their mutual relationship, from their looks, a pure, fresh love radiates, but also ripe, rich fruits of love. In doing so, they preserve the power of the spring blossoms, a Marian beauty. They go out again, greeted by Mary, and in a way become her living greeting.
Mary, greet us too! Greet me too!
Greet the world through us, through me, so that every corner may be illuminated by your gaze and may blossom in our hearts for eternal May!