"Survival Strategies" 
On October 12, 2019, I held my first theme tour on this subject at the Dachau concentration camp memorial site. I suggested this theme a year ago because I found it interesting and hoped to mention our founder, Father Joseph Kentenich.
Again and again in the preparation, I discover impressive examples of prisoners. Other people also became attentive.
The Bavarian Television becomes attentive
Thus the Bavarian television also became attentive and wanted to bring an advance announcement about October 12. The recordings were made in the memorial site during continuous rain. Although I have been doing tours for ten years, I was still excited. Otherwise I know, for example, where the school class comes from, how old the pupils are, etc. But now I had to be surprised. The short BR contribution, which could only be broadcast later, can still be seen in the Mediathek:

Special Topic "Priests in Dachau Concentration Camp"
At the same time since October 22, 2019 the pages about Father Kentenich from the memory book "Names instead of Numbers" are online.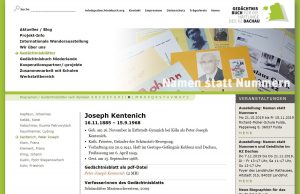 This valuable book already contains several articles about prisoners from the Schoenstatt Movement. When I, together with my fellow sisters, wrote the report about Father Kentenich, I had the opportunity to participate in the training course for speakers. I am still grateful for this today, especially since only licensed speakers are allowed to conduct tours. My special topic is "Priests in KZ Dachau", Father Kentenich as prisoner no. 29392 in KZ Dachau.

Schoenstatt visitors from all over the world
I make these tours especially for Schoenstatt groups. Most of them come from abroad. This year, for the first time, there was an adult group from France, from the Cambrai area. Soon there will be more students, most of them from South America, who will participate in the "Schoenstatt time". International groups are already registered for next year, one of them from Australia. There are already two dates for the new theme: January 12, 2020 and May 11, 2020.
Survival, perseverance – this has a lot to do with resilience. So I can mention some life-aids, for example by Viktor Frankl (concentration camp prisoner, psychotherapist). We all need survival strategies in order not to be lost in everyday life, in order to preserve our dignity and that of others who are despised, oppressed and persecuted. It is important to be vigilant, especially today, when self-interests, nationalisms, conflicts and violence are on the increase worldwide.
Looking to Mary with hope
How comforting and hopeful is the gaze on Mary, Our Lady. In 1942, in the great need of the concentration camp, Father Kentenich chose her as Mother of Bread and Home, Advocate and Queen. Mary protected him. On April 6, 1945, shortly before the end of the war, he was able to leave the concentration camp – a miracle in our eyes. Many others died in these weeks, especially from typhus.
Father Richard Henkes SAC, like many others, agreed to voluntarily stay with the terminally ill. On September 15, 2019 I was able to attend his beatification in Limburg Cathedral. A few days ago I was allowed to accompany a study trip in the memorial, which was going in the footsteps of Father Henkes. He did not survive, but he, like the 57 Blessed of Dachau Concentration Camp, is perhaps more alive today than ever. I trust in their intercession.