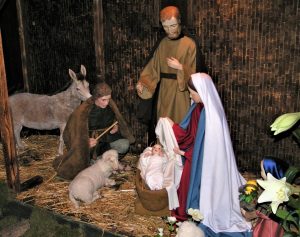 With a Christmas wish from Father Joseph Kentenich
The Schoenstatt Sisters of Mary wish all the visitors of our site
a blessed and merry Christmas!
"What has been sung into the souls of the shepherds by the angels? Listen: 'You will find a little child …' (Luke 1:12). This gives us a great goal in the coming weeks: a new childhood!
God became man on the path of becoming a child.
We are to be divinized on the path of becoming children, not only for four weeks of Advent, but until the end of our lives. The Savior has made this our goal in life: 'If you do not become like children …' (Mt 18, 3). So what does he ask of us? A new childhood!
The more we are opened up and receptive to God and the divine, the more we can be closed against the world. Only a child is able to be detached from the world spirit in the midst of the world. If we have already experienced a very deep love towards a human being, then one probably lives in the daily atmosphere and yet does not live in it, the soul lives in love. That in itself should be the core and star of our striving:
to be in the world and yet not in the world,
to serve the world, yet circle with heart and mind around God the Father."
                                               (Father Joseph Kentenich on November 28, 1937)