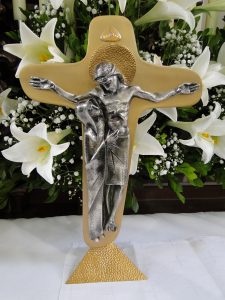 Perhaps you are thinking: The gift of suffering? What does that mean? Gifts are usually something we appreciate, something we desire or are happy to receive. None of these descriptions match up with suffering. Just thinking about the sufferings we all have to encounter – disappointments, family struggles, physical or emotional pain, guilt, confusion… How can these be gifts?
The redemptive value of suffering
The time of Lent offers us many opportunities to be reminded of the redemptive value of suffering. Venerable Emilie Engel, one of the founding sisters of our community, has some great lessons in this regard. As a child, she suffered from anxiety. As a young women, she suffered from scrupulosity. And as a sister, she eventually suffered from debilitating illness. Allow me to share with you something she once prayed:
The journey towards resurrection and transfiguration always leads through Golgotha. Ever since original sin, this is the law in the reign of God. We see it confirmed in the life of all holy and great personalities, in the life of all religious communities. And the greater the mission that God entrusts to them, so much greater were they marked with the cross and walked in the footsteps of the world's Redeemer. So, too, do we want to see suffering – whatever it may be – in transfigured light, not as a heavy burden, but as a pledge of love and fruitfulness, as a sign of victory and triumph. (Words for Each Day, Day 19)
Suffering "as a pledge of love"
These words are packed with meaning. For one who had to carry the burden of many crosses, she encourages us to see our suffering "as a pledge of love… a sign of victory." She knew what it felt like to experience the struggle of doing what is right. She experienced very tangibly her weaknesses and limitations, just as we do. But through her consecration to the Mother Thrice Admirable of Schoenstatt, and through the guidance of Father Kentenich, she dared to believe: God's love and mercy was always greater than her suffering.
Her trust in God became so great that she was even able to recognize suffering as a gift for which she ardently longed. At the peak of her striving, she prayed: "Please, dear Father, do send that measure of love and suffering that you have foreseen for your child …"

Emilie allowed God to lead and guide her
A brief excerpt from her biography reads:
Emilie allowed God to lead and guide her, and she followed unconditionally. In June of 1940, it was thirteen years since her first consecration. Just as in other years, she prepared for the renewal of her surrender; she did not take anything back. On the contrary, she consciously included what was especially difficult for her. She was ready not only to accept any suffering, but to thank for it. As an expression of a greater love she even dared to voice the expressed petition for suffering, for what burdened her especially, the cross of her inner anxieties and fears. In this magnanimous yes to the heavenly Father she grew beyond herself into the freedom of a child of God.
 She added one amendment to her consecration prayer: "With deepest childlike longing to do what gives you greatest joy, I offer you today not only the readiness, but also the intimate petition: Father, if it is according to your plans, then send me all the suffering that you have foreseen for me out of love; then leave me the cross of my inner anxiety and distress until my death, until your sick child will return home to you in eternal freedom and bliss. Amen."
 She repeated this consecration in October of 1940. In a special prayer she expressed her inner attitude by which her future life and work was determined. She described in all details what was an especially great suffering for her, in order to always add: Yes, amen, Father, I ask you for it! (My Yes Remains, p. 154)
What is the secret?
Perhaps you are thinking: "But – Venerable Emilie is on the way to sainthood. I am just barely getting by in smiling when suffering comes my way, let alone asking for it!" Even though we may not yet be canonizable, we are still invited to learn how suffering can be a gift.
What is the secret? How did Sister M. Emilie reach this degree of sanctity? Only through an intimate and loving attachment to God. Little by little, she surrendered herself to God's love and to being drawn deeply into his mercy. Her sinfulness and weaknesses were not obstacles to his love, but the key to it. She realized that when God allowed suffering to touch her, it was then that she was the most willing to trust in him and abandon herself to his wish and will. Therefore, she prayed that if it was in his will, he would send her suffering, so as to be all the closer to his heart.
Longing for suffering is not something we learn to do overnight. What we can do now, though, is be open to see our suffering in a different light. In this holy season of Lent let us ask Sister M. Emilie to help us learn how to appreciate the suffering in our lives as a precious gift – a gift of merciful Father-love!
Venerable Emilie, help me firmly believe in God's love for me personally. When cross and suffering come my way, help me to see the Father's will behind it, and so use that very suffering to bring me closer to him. Like you, I want to learn how to trust in God as a child – with unlimited confidence and childlike love! Amen.
Prayer for the Beatification of Venerable Emilie Engel
Eternal Father, you led Venerable Emilie along the way of simple childlikeness and unselfish motherliness. Trusting in your wise providence, she spoke a loving yes to your plans and wishes, even in the most difficult situations. Through the intercession of our Mother Thrice Admirable, Queen and Victress of Schoenstatt, we ask you to raise her to the honors of the altar, for the glorification of your infinite mercy.  Amen.