Founder -traces in Bad Ems
A scholar from Switzerland once summed up his meetings with Father Kentenich in the following way: "He showed us what it means to no longer belong to yourself, but are light from the light. This light continues to shine in Schoenstatt. This light flares up every place where he lived, suffered, watched, thanked, wrestled and prayed …"
To discover this light in Bad Ems on the Lahn River and let it shine into their own lives, a group of married couples from the Schoenstatt Family Movement set out on the morning of February 2, 2019 on their way to this place. The ride was part of the so-called "Crime Scene Weekend", which Sr. M. Vernita White offers every year for those interested in Fr. Kentenich and which is always welcome.  
A second highlight at this meeting was the testimony given by Fr. Hans-Werner Unkel from his personal encounters with the founder of Schoenstatt which he had passed on to the audience and was still savored on Sunday morning in lively discussion groups.
In this report I would like to tell about the trip to Bad Ems, which I was allowed to accompany and help shape.
After a festive Mass in the Original Shrine, we made our way – with snowy weather – to the famous spa town on the Lahn, which is not far from Schoenstatt.  

Meeting point: Town Hall in Bad Ems
The statues of Peter and Paul next to the entrance indicate that the town hall originally served another purpose. It was formerly the Marian Hospital, popular in the whole town. It was built by the Heiligenstadt School Sisters and they had staffed it for years. When the sisters had to give up their establishment at the end of the last century, the building was taken over by the Community Association of Bad Ems. Outwardly it remains unchanged. The chapel, of which we know for sure that Father Kentenich was there because there is a Mass celebration record, has been converted into a boardroom for the purposes of the association.
Father Kentenich was a patient in this hospital twice: 1914 and 1927.
On Ash Wednesday, February 25, 1914, Fr. Kentenich was taken to the hospital in Vallendar as a candidate for death because his pulmonary tuberculosis had broken out again. From there he arrives on  March 21, 1914 for further treatment in Bad Ems, in the Marian Hospital. Here he spends a full four weeks, until he finally has recovered to the point where he can return to Schoenstatt on April 18, 1914, one day before the founding of the Marian Congregation.  
Lent 1914 is a hard time for the students of the House of Studies for they feel how deeply their hearts have now grown together with Father Spiritual. A life without him has become inconceivable to them. Also in these last weeks much has to be done to prepare for the founding of the Marian Congregation. Can they even do it alone – without him?
From Father Kentenich, God demands nothing less than a death leap. In the chronicle and later more often he repeats that he was "dying" during this time. Not only himself, but also the work he has recognized as God's mission, he must unconditionally put in God's hands. Will it even happen – without him?
Father Kentenich dares this and many other deaths in his life because he trusts in God and the Mother of God.
You can read more about this time in the article: On the way to October 18, 1914 – A "death leap" (in Regnum 2014, No. 3).  
In 1927 Father Kentenich went to Bad Ems a second time to gather new strength. The work has once again grown over his head, and his health is not the best. Approximately from June 19 to July 8 he will stay at the Marian Hospital again.
From this time, there is an exchange of letters between him and Sr. M. Emilie Engel. Since she has an important question for him as her spiritual guide, she wants to visit him in Bad Ems. But this visit does not come about. So she writes him a letter with the question, whether she may offer herself as a sacrifice in the retreat that she is currently making in Schoenstatt, so that in Schoenstatt many saints grow.  
To her great surprise, Father Kentenich interrupts his stay in Bad Ems. On the 29th of June, he unexpectedly returns to Schoenstatt and celebrates Holy Mass in the Original Shrine. In the sermon he even speaks anonymously of Sr. M. Emilie's plan. She feels confirmed by this and in the Original Shrine, she trustingly places her offer in God's hands.
Further details can be found in the two books by Margareta Wolff about Sister M. Emilie (biography and sources).  

Meeting point: train station in Bad Ems
On March 11, 1942, the train that takes Father Kentenich from Koblenz to Dachau passes through Bad Ems. Since it is a normal passenger train to which the car with the prisoners was attached, it stops in this small station. This is exactly where a Sister of Mary gets off the train. She could not have guessed during the whole journey, that she was traveling with Fr. Kentenich from Koblenz to Bad Ems on the same train. She experiences it later, and it touches her deeply.  
It is Sr. M. Agape Hahn, the superior in the large spa of Bad Ems, which was established soon after the war as a military hospital. She went to Koblenz this morning to get some craft material there. Fr. Kentenich, in a letter from prison, called upon his Schoenstatt Family to take seriously the total dedication to God in this difficult time and not to "steal all the horses in the world together" to re-direct the little self's chariot. This has fallen deep into her heart and the hearts of the sisters of her filiation in the hospital. Now they want to make a cart on whose driver's seat no longer the little self is seated, but the Triune God has its place. This symbol should be before their eyes in Lent and spur them on to total dedication. Sr. M. Agape considers it a great gift throughout her life that she was allowed to accompany Fr. Kentenich on the train journey to Dachau without knowing it. 
There are other events in the life of Fr. Kentenich, which are related to Bad Ems during his imprisonment in Koblenz and in Dachau, but in one short morning, one not tell everything. So we go on to the next station, the little chapel, which is just behind the train station.

Meeting point: Chapel of Mary Queen
Again it is a difficult time of testing in the history of Schoenstatt, which leads Father Kentenich to Bad Ems. Now it even comes from the church itself, the church for which Father Kentenich founded his work.
On August 15, 1951, he was deposed by the Holy Office as Director-General of the Sisters of Mary, later also as director of the Schoenstatt Movement. On October 22, 1951, he must leave Schoenstatt and begin his journey into exile. A papal visitator, Fr. Sebastian Tromp SJ, inspects the Schoenstatt Works. But he does not understand it from the inside and wants to change some things. From August 15 to October 22, 1951 Fr. Tromp often stays in Schoenstatt. Since he no longer wants to talk to Fr. Kentenich during this time, if Father has no fixed dates in Schoenstatt ,Father avoids him in a polite way, by going to other places, for example to Montabaur or Ochtendung.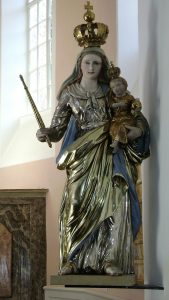 From September 13 to 24, 1951, he stays in Bad Ems. Since he enrolls for a cure on short notice, he can only stay in a private pension: in the Villa Flora, which is not far from the train station. During this time he visits the chapel of Mary Queen twice a day: in the morning he celebrates Mass there at 8 o'clock, in the afternoon he spends a time of silent adoration there.
When Sr. M. Agape finds out, she immediately relocates her vacation days from Koblenz to Bad Ems, where she has a married sister who lives near Villa Flora. Since she is well acquainted with Bad Ems, she can help Father Kentenich in many ways. In the mornings, she takes part in his holy Mass as a server, in the afternoon at his silent prayer in the chapel. She can also serve him well for his cure. She always experiences Fr. Kentenich as a man deeply rooted in God, full of confidence in his Queen, but at the same time very happy and open to people. He is at home in the will of God.

Meeting point: Villa Flora
It didn't last long and Sr. M. Agape is no longer the only participant in the holy Mass of Fr. Kentenich in the Chapel of Mary Queen. Every day, one or more Sisters of Mary come to Bad Ems and visit the founder. The train connection from Koblenz to Bad Ems is so cheap that you can be there at 8 o'clock in the morning and take part in the Holy Mass in the chapel. Then they walk with P. Kentenich along the railway tracks to his pension.
Sr. M. Agape has meanwhile hurried to her sister's and brings to Villa Flora from there a basket with coffee and dishes. There is room for everyone in Father Kentenich's large room. The table is quickly set here. The sisters from Schoenstatt have brought bread and fruit, and so the joyful breakfast can begin.
It gradually becomes so popular that one group of sisters comes to Bad Ems in the morning and another in the afternoon. This second group may then have dinner with Fr. Kentenich. The sisters bring bread and fruit from Schoenstatt with them, too, and Sister M. Agape gets tea and dishes from her sister.  
Sometimes Father Kentenich picks up the sisters at the train station, or he brings them back there. The walks with him along the railway tracks are always precious times, in which Father Kentenich also has many discussions with individuals.
But what is the main reason for these visits to Bad Ems? It is about looking for ways with Father Kentenich, how to save the Schoenstatt Work in this period of trial by the church, so that the God-given charisma of the founder remains original. Above all, Sisters of Mary in leading positions therefore go to Bad Ems. They use the possibility still allowed to them to meet the founder privately and to make with him important considerations for the salvation of the work.
Despite the difficult situation, one of the sisters observes in her notes after a visit to Bad Ems: Father Kentenich always had a "sunny contentment".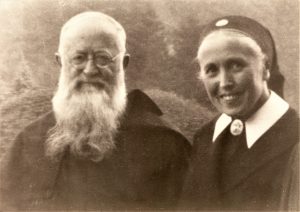 A gift at the end
As a group of Sisters of Mary once again walk along the railroad tracks with Father Kentenich, Sr. M. Agape has the good idea of ​​walking quickly into the town, buying a camera and taking a series of photos with Father Kentenich.
The couples were very pleased when they received the cut-out photo of Sr. M. Emilie and P. Kentenich as a farewell gift at the end of the tour to the founder-traces in Bad Ems. They already knew the picture, but there was a great deal of surprise when they heard that this picture was taken on September 22, 1951 on the railway tracks in Bad Ems.