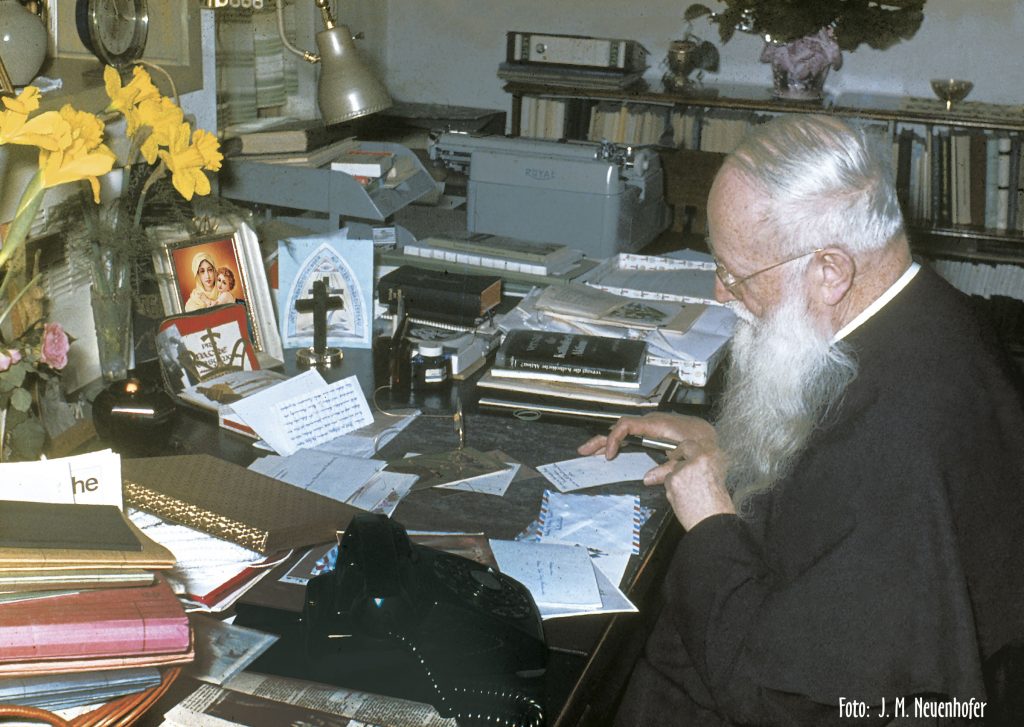 It won't take long before a certain couple will celebrate their golden wedding anniversary. The man tells us joyfully that they are now having the letters bound which they wrote at the time of their first love. These love letters are more for them than a few pieces of paper and a little ink. These letters awaken memories, gratitude, perhaps also wistfulness.
A letter – behind it is a person who has written it. And this person is unmistakably recognizable to me because of the handwriting.
There are letters that are very important. They can never be replaced by any WhatsApp, any email, or any Twitter message. A letter brings a report, a message – personal, for me.
Handwritten personal letters can become even more seldom in the future. Couples who celebrate their golden wedding anniversary fifty years from now will perhaps have a difficult time finding a love letter from "earlier times" because the motherboard of the computers from that time no longer exist or the text messages have long been deleted. The mailboxes of today wait in vain for such letters.
Times change. Only one remains with his method. It is a method which has proven itself, it has held over thousands of years, has remained vital, fresh, unchangeable: God. His method: coming from the heart and going to the heart.
God Writes Letters
One of his most preferred ways of giving on messages is man himself. Concrete people are needed in every epoch of history to give a face to his love – people who are open for his spirit and can give their surroundings a hint of how HE can be. To use a picture: If one wanted to bind all these "letters from God," the libraries of the world could not hold all of them because each person, and I myself, in my original way of being, am a letter from God and may bring a message about him through my life. There is something very special that God can and wants to share only through me – very unique, unchangeable.
In the Kentenich Year which the International Schoenstatt Family has proclaimed from September 15, 2017 until September 15, 2018 on the occasion of the 50th anniversary of the death of its founder, we are invited to go into the "library" of God, and among the many "letters" which he has written during this century, take out one and read it. At the beginning of the new year, let us open this letter which God has written through the founder of the international Schoenstatt Movement, Father Joseph Kentenich, and read together a few of the lines. We want to decipher a little piece of the message which God wants to share with us through him.
Pendulum Security
 "Nothing is sure; only one thing is absolutely sure, and that is that we live in unconditional insecurity. We know that only in God can we still find security! Whoever relies on and trusts in God can go through life peacefully and securely! He knows that nothing happens except what God allows, and that he will also continue to help us. Let us look at a pendulum as an example. It is thrown back and forth, as far as it can go. But as long as it is held from above, nothing can happen to it. We also are held from above. Our only stronghold is above, in God." (1946 in Friedrichroda)
 God Wants to Mirror Himself in our Eyes
 A few years ago, a father made a special picture of his daughter: He hung his camera around his neck and then twirled his daughter around in a circle, holding on to her hands. His daughter looked into his eyes, radiant with joy. As the camera took a picture of the daughter with the automatic timer, there was her father mirrored in the shining eyes of the child.
When we are twirled around in our life, we may remain peaceful and experience an inner joy: the father holds us! He is our hold! And he wants to see himself mirrored in our eyes.
Childlike trust
 To trust in God like a child –that doesn't mean that everything goes smoothly. But I have an anchor in the storm.
To trust in God like a child –that doesn't take all the problems out of my path. But I have someone who helps me overcome them.
To trust in God like a child –that is not just for those who have a lot of time to pray. His nearness fills every one of my moments. His love has even counted the hairs on my head. (see Matthew 10:30)
To trust in God – every day anew!