Making Rosaries with
First Holy Communion
Children
Why make rosaries with First Communion children? Because they are a pretty decoration? Because it gives joy to be creative? Or to reach the depths of the content of this particular "chain?" There is a long tradition in Borken, Germany, of First Holy Communion children making a rosary. This spring, a total of 180 first communicants from parishes near the provincial house, and 185 people who accompanied the children, accepted this invitation.
In the entrance hall to the province house each group of children, accompanied by moms, dads, or grandmothers was greeted. There was a basket in the center. Under a cloth a large wooden rosary was hidden that one of the children could take out. The children learned that the Rosary is a prayer with a long tradition and that it can be important and helpful for everyone, not just the elderly.
Afterwards, the groups went to the Schoenstatt Shrine. The children looked attentively at the MTA picture.  The Blessed Mother is holding Jesus in her arms. She looks at us no matter where we are sitting. She is interested in us, about everything that is important to us. Then the children receive a little picture of the Blessed Mother with three prayers: the Our Father, the Hail Mary, and the Glory Be.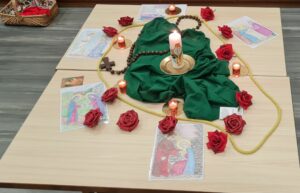 In an introductory catechesis, the children draw a comparison between a rosary and a rope that gives support. People can also get support from the Rosary. The five events of the joyful mysteries of the Rosary are explained with pictures that are child-friendly. Then a child lights a candle for each picture. Because the Rosary is a prayer of love, each child can put a rose by these pictures as a sign of love so that a real "rose-ary" is created around the rope.
Then comes the challenging part of the afternoon as each child chooses beads and a cross for his or her rosary. It obviously makes the first communicants happy to make a rosary and they are proud when their rosary is finished.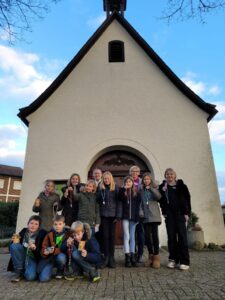 To conclude the event, the children pray the Rosary in the Shrine. They quickly gather their prayer requests. These include prayers for their families, for grandma, for friends who are not healthy, for the people in Ukraine, Syria, and Turkey. A large candle is lit and placed on the altar. Only then do the children hold their rosary in their hands and pray it using the small prayer card with the basic prayers as a cheat sheet.
Where should they keep their rosary when they get home? The catechists encourage the children to put the rosary and the picture of the Blessed Mother on their desk or on the stand near their bed so that they can always take their rosary into their hands and give Jesus and Mary their gratitude, joys, or concerns through this prayer.
A photograph for remembrance of this special afternoon was taken. Happy and grateful, the children and the people accompanying them depart.