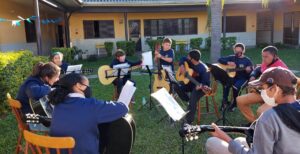 The families from the shantytown of Comobi/ Santa Maria, Brazil are experiencing a great joy this year: The annex to the children's center, Sunshine Corner, will be completed. Sixty more children between the ages of two and five will be accommodated the entire day.
This means that mothers or fathers can seek employment without worrying that their child will be on the street. Enrollment has begun and in the middle of February it will open. Everyone who contributed to the success of this project and will continue to do so is saying a heartfelt "Thanks be to God!"
Registration for the children between the ages of 6 and 14 began in December. The parents or guardians "stormed" us immediately to secure a place at the center for the year 2023. No one wants to lose their place. So far, none of the 130 children discontinued the program. All of them are continuing with us.
Good daily meals – a highlight for the children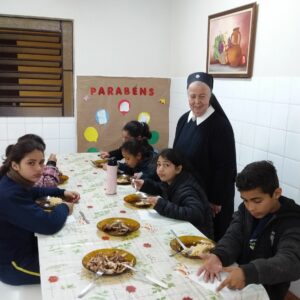 If you ask the children what they like best, most will say, first of all, the breakfast and noon meal or the afternoon snack, and then they will say the participation in an activity such as learning an instrument, handicrafts, sports, or games.
Rafael, for example, is very anxious because he would like to be certain his place has been secured. If you ask him why, he answers, "I get breakfast here in the morning and before I go to school a hot lunch at noon. During the time between I do my homework and learn how to play the guitar."
Raissa is also happy that her mother has enrolled her and her two siblings. She especially enjoys Wednesday's project: "Wednesdays I learn to crochet and to knit. I already finished some things, and with them I can make everyone in our family happy at Christmas." Girls and some boys like this activity very much.
Five-year-olds as vegetable gardeners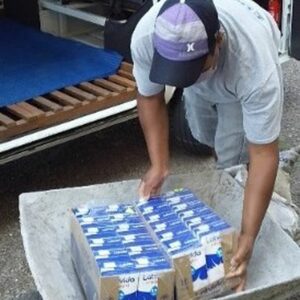 We place great importance on good meals. Each day our cook prepares 5 kg of rice, 4 kg of black beans, 4 kg of pasta or polenta, some meat or eggs, various salads and vegetables—according to what the farmers bring us. The five-year-olds planted a little garden of lettuce and white cabbage on the property. With great pride they bring "their harvest" to the kitchen. Of course, they then want to eat it, also. In this way many children learn with us to eat vegetables, to the great astonishment of their parents, because the children don't eat them at home. Many families do not have the means to purchase vegetables or a place to plant them. As a rule, 12 liters of milk are consumed each day. Monday is the day when the children eat the most. One notices that the two days they are home (the weekend) they lack adequate nutrition.
A children's orchestra as a novelty
During this past year there was another innovation in the Sunshine Corner: A children's orchestra was founded. It consists of a variety of instruments such as guitar, violin, viola, electronic piano, recorder, and various percussion instruments. So far, 20 children have joined the orchestra and the group has been invited to play at their schools several times. This is a great motivation for the children. On December 14, 2022 the children's orchestra–together with all of the other children–put on a Christmas play for their relatives. They practiced very diligently for it.
You can watch the entire Christmas play at this Link: 
Password: Sonnenwinkel Santa Maria
Mission Center of the Schoenstatt Sisters of Mary
Berg Schönstatt 6
56179 Vallendar
(0261) 64 04-311
missionszentrale@s-ms.org
Bank account: Liga Bank eG
IBAN DE107509 0300 0000 0589 20
BIC GENODEF1M05