First meeting, 26 November 2022
Four dates, four different meetings to discover one's own Personal Ideal following the guidelines left by our Founding Father, Father Kentenich.
There are many of us, known and unknown faces who are coming to the Shrine for the first time. All animated by a single desire that unites us: to know ourselves and to understand where we are going and why.
The thing we really want to find out is who we really are because we do not know ourselves fully. Where are we on our journey?  Often to understand this we turn to others, our family, our friends or colleagues, those around us, and convince ourselves based on their judgements, we become the projection of their idea of us.
But what is our true identity? Why did God create me?
In opening, we turn to the Holy Spirit to enlighten and guide us:
"Holy Spirit, you are the soul of my soul …
Let me know what eternal Love desires of me …"
 "… ad quid venisti?"
"… What did you come (here) for?"
Sr. M. Julie Brcar, who is guiding us on this adventure, began by going back to the origins, to the moment of Creation, and projected a video that is a succession of beautiful, moving images that arouse in us feelings of joy, of gratitude, of peace, of majesty. An uncontaminated nature, that of the beginnings that we may have forgotten.
Then, on Dante's verses, he takes us up the "scala Naturae", a classical model of the order of the world that ranks the universe according to an ascending hierarchy from the mineral, vegetable and animal world to man and the angels at the apex. God is all around. The discriminating element is the soul, the soul that gives movement, consciousness and life.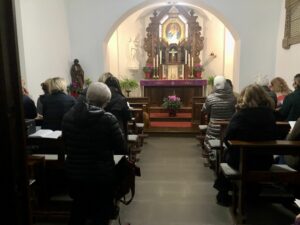 This is followed by a series of personal reflections on the word 'Father' on what this word conveys to us, what it reminds us of, the feelings this word arouses in us: memories, sensations feelings.
Father son, child son. We return to the need to become children again, that is, innocent, trusting, open beings.
"Truly I tell you, unless you are converted and become like children, you will not enter the kingdom of heaven" (Matthew 18:3-4)
In the presence of the Blessed Sacrament in the Shrine, we concluded the first meeting. A space dedicated to reflection and silence after the reading of the prayer booklet of entrustment, of conversion of our hearts to Jesus and to the Mother Thrice Admirable Queen and Victress of Schoenstatt who has welcomed us, who wants to transform us and send us as Her children.