Dressed in the Colors of Schoenstatt: Blue and Yellow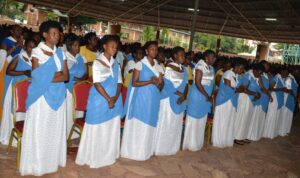 Every year, at the end of October and the beginning of November, the women in Schoenstatt  who are in academia in Burundi organize a three-day workshop. This year it took place from November 4-6 in Bujumbura/Gikungu.
The Schoenstatt women in academia in Burundi have the same ideal as the Schoenstatt women in academia in Germany: chalice community, chalice family. Like a chalice they want to welcome Christ and the Blessed Virgin Mary. They want to be people firm, free and deeply Christian in their professional environment. To achieve this goal, they want to be educated by Mary, because:
"Nothing without you – nothing without us."
During these three days the women analyzed their endeavors in the past. They informed and trained themselves; they recalled the values transmitted to them through the Schoenstatt Movement.
The highlight of these days was the Holy Mass on Sunday in the large pilgrimage church on Mt. Sion. The women entered in procession. They were accompanied in song to their reserved place. The girls and women were dressed in the colors of Schoenstatt: blue and yellow.
After the solemn Holy Mass the women processed to the Schoenstatt shrine. At the head of the procession were three women who sealed the covenant of love with the Blessed Mother. Next came eight women who received the Schoenstatt bandana and finally ten women who want to establish a home shrine in their home.
After all the festivities, the joy was great: Photos were taken and flowers were placed at the memorial to Father Joseph Kentenich. Then all of the women were invited by the Schoenstatt Sisters of Mary in Gikungu to a reception in the "Queen of Trust" Center.