"Why are You Doing This?"
Meeting Father Kentenich
at the Dachau Concentration Camp Memorial 2022
"Why are you doing this?" some schoolgirls asked me in the middle of the camp street during the Dachau tour that I was giving.  Almost a little excited, they continued: "May we ask you that?" The class had participated well. It was a class of mostly boys in a cathedral school from the far north on a field trip. I had looked on the internet where this place was and what distinguishes this school. So I knew that the school was over 1000 years old and that a branch of ancient languages exists there yet today.
I tried to give an answer to the girls, inquiring exactly what they meant. Sometimes I am asked during the tour how long I have been doing this or if it is difficult, but I had never been asked directly "why." But secretly, I was happy about this question, because I could say something about our founder. He is the main reason why I give the tours.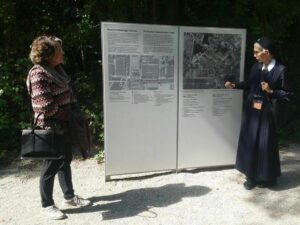 I explained to the students that I like to work with young people, that our founder was in this concentration camp and could do many good things here, and that I am not permitted to lead groups of a religious organization, the Schoenstatt Movement, unless I also do general tours and have the appropriate training. And in this way I am contributing that this "never again" happens! Once they were quite interested and open, I suggested we go briefly to the Protestant church on the way to the crematorium. I do that sometimes, because there I can point out the Coventry Cross and the weekly Coventry Prayer for Peace and Reconciliation. Since I do not know what attitude the students have toward religion, I usually have a short period of silence for reflection and I encourage them to think of the people who are persecuted, suffering hardship today …
We were lucky with the weather, because it was stormy. So it is not surprising, that one student was not feeling well at the very beginning. The second teacher stayed with him. When I went to my car in the parking lot after the tour, I saw the group "by chance" once more. They were waiting for their bus very nearby. I wanted to use this opportunity to give them, esepcially the teacher who was here for the first time, some informational literature, among other things, the memorial leaflet about Father Joseph Kentenich. With joy in my heart about this beautiful experience on September 15, I returned home gratefully.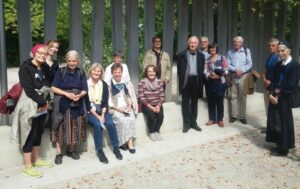 Days later I remembered that the "answer" actually includes something else important, at least for me personally: It was a few years ago on a September 15 that I was admitted to the training course. Two years earlier, I had been rejected in October. There were too many appplicants. Therefore, I always see the job of docent as a gift on behalf of our founder. I am allowed to go in his footsteps, in the "footsteps of a saint." This expression comes from a Schoenstatt mother and I think it is very appropriate, especially in Dachau.
I could share many special Dachau-Encounters this past summer. A small highlight was the
commemoration of the eightieth anniversary of the death of Father Albert Eise.

With a family of the Schoenstatt Federation, I worked to make the commemoration event happen. One could read about it in the Schoenstatt press.  (Gruppenfoto, Link) It was nice that relatives [of Father Eise] took part and did not spare themselves the long journey. I was happy that I could contact a young woman, who as a school girl—in the meantime a student of the Freisinger High School Academy—had written a memorial leaflet about Father Eise. She participated in a tour on September 3.
But a special experience for me on this weekened was a conversation with
the oldest son of a survivor of Dachau, Dr. Eduard Pesendorfer,
a conversation I was able to convey both in the Carmel, and in the archive of the memorial. What I learned about the camp survivor, who was a head nurse in the infirmary, I find so valuable that it should be recorded in a commemorative journal. I hope it happens. I suggested to his son, who has the same name and occupation as his Father, Dr. Jur. Eduard Pesendorfer, that he contribute to the memorial book "Names Instead of Numbers."
Since some people who were interested could not attend or live too far away, Sister Ingrid-Maria Krickl and I decided to provide an online event as well. This co-sister in Vienna has already helped me several times this year. We were happy to see that there were participants from all branches of the Schoenstatt Movement, even from abroad. It was worth the trouble. In November we want to start another [online] event about Father Eise. Around the time of his nameday/birthday, he was sent to the concentration camp. His love for the Mother of God and his enthusiasm for Schoenstatt can also enkindle us today!
Fotos: J. Kiess; Sr. M. Elinor