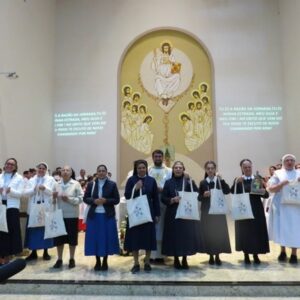 Together with four other religious communities, we Schoenstatt Sisters of Mary were invited by the pastor of our parish, Father Wellerson Roberto Dias, to participate in
a vocation week
for women
in the parish of Our Lady of Aparecida in Congonhinhas/PR, Diocese of Cornélio Procópio, Brazil.
The impetus for the pastor's initiative to have a vocation week was his observation that it has been more than ten years since this parish has brought forth a woman's vocation to consecrated life.
Mary chose the better part
 After some organizational meetings, the long awaited week took place from August 15-21. The motto was "Mary has chosen the better part." (Lk 10.42) During the concluding Holy Mass each participant received in a personalized bag a kit with necessary and very practical materials prepared by the parish: the entire program, prayers, etc. as well as the promotional brochures of the individual religious communities.
During this intensive week, despite cold and rain, the five religious made visits to schools, gave catechesis, and held groups in country chapels and in families; there were blessings of businesses, etc. Priority was given to the infirm or people in special situations. There were meetings with youth, adolescents, and children, a visit to the city hall for a meeting with all of the officials and authorities, and the cordial welcome of the mayor.
Our religious uniform was helpful
The day's schedule began with Holy Mass and the Liturgy of the Hours in the morning and there was a prayer time in the afternoon. Our uniform dress drew the attention of people and if the opportunity arose, also for unplanned visits. People happily waved to the sisters in the street. The presence of so many sisters was certainly something unprecedented. Surely it awakened a sense of vocation in hearts. The pastor of the parish would like to continue this initiative and counts on the collaboration of the sisters for this.
Queen of Hearts of Vocations
During the evaluation of this vocation week, we had the opportunity to propose to the entire team that we crown the image of the Mother Thrice Admirable of Schoenstatt that Father Wellerson has in the rectory; a picture which was a gift to him for his ordination to the priesthood. With a short, spontaneous celebration the MTA was crowned Queen of the Hearts of Vocations. It was moment in which heaven touched earth. We experienced a blessed and graced week filled with God's presence. This vocation week with different religious communities was an experience of unity and joined forces. As at the opening we met with great joy, so at the common closing, we departed with great joy, hoping to meet again soon to deepen our work directly with the young people.