A Pilgrimage to Cambrai
and Lisieux, France
Finally!
Planned long ago—but the feasibility was always questioned due to the coronavirus. Finally it happened in the summer of 2022: a pilgrimage from Oberkirch, Germany (Diocese of Freiburg) to Cambrai and Lisieux, France. Women–single and mothers–of the Schoenstatt Movement were accompanied by our diocesan leader of this branch, Pastor Lukas Wehrle and myself.
Deepening the fire of an original personal mission
To experience the joy of a personal calling, to deepen our commitment in the covenant of love, and to rekindle the fire of our original personal mission, we set out on a Sunday morning with two minibuses to follow in the footsteps of Joseph Engling and the little St. Teresa of Lisieux.
Encountering God in holy places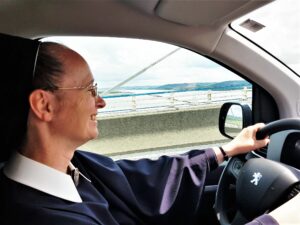 Our first stop was Marienthal near Hagenau in Alsace, France.
We received a motivational inspiration here: Take advantage of opportunities to seek out "holy places" to encounter God—just as Joseph Engling did in the first phase of his training as a soldier.
A participant testified to this: "It was a beautiful sign for me to begin the pilgrimage in Marienthal in memory of Joseph's time as a military recruit in Hagenau; he made several pilgrimages from there to the shrine of Marienthal."
Hot weather—Silence—Pilgrimage
After Holy Mass we continued our way to Cambrai. We were well accommodated overnight in a house of the diocese, about a 20 minute drive from the Shrine of Unity in Cambrai, France. Precisely on the covenant day we completed the last stretch of our actual goal: We walked the same path that Joseph Engling walked on October 4, 1918—the path from which he never returned. By silently bearing the intense heat, we pilgrims accompanied him on his final way, and tried to follow Joseph's total surrender to God, his readiness to do God's will, and his closeness to God.
A few ears of corn were still standing for us
A few ears of corn still stood in the field where Joseph Engling was called home—a sign that Joseph will accompany us on our life's journey.
One participant commented: "This way was something very special for me. I didn't experience the heat as a burden—it simply was. Joseph's surrender to and intimate bond with the MTA and her little chapel–and to renew this relationship in my life as well–was a profound experience for me."
Covenant-Engling-Fire
Another highpoint was the covenant celebration in which we renewed our covenant with the Schoenstatt family gathered in the shrine and the fire in the Joseph Engling fire bowl.
Remonville – spiritual growth
The next morning, we focused on and "savored," Joseph's "Remonville" experience—the place where he experienced his limitations and misery so profoundly and as a result learned much and grew spiritually. The personal connection was quickly found as one bit of feedback illustrates: "Here Joseph appears so genuinely human. He was not perfect and didn't need to be. We need the experience in our everyday life that I am not loved because I am good, but because God is Father."
Meeting with the Archbishop of Cambrai
In the evening the Archbishop of Cambrai, the Most Reverend Vincent Dollman, came to celebrate Holy Mass with us in the shrine. It was an enriching and joyful meeting that led to a common meal and a blessing in the shrine. It was difficult to depart from the shrine because we felt very much at home there.
Our Lady's smile was also given to us
With much expectation, we departed the next day for Lisieux, to visit St. Teresa of the Child Jesus and of the Holy Face. In the afternoon, her childhood stood completely in the foreground because we visited the home of the Martin family in Lisieux (Les Buissonnets). A woman from our group stated reflectively: "Our Lady's smile, through which Teresa became healthy as a child, is also given to us. From our MTA picture, the Blessed Mother looks at us. She turns toward us completely–very personally, I think. The meaning of this struck me again in (Les Buissonnets)."
A very concrete shower of roses
Another high point was the celebration of Holy Mass in the Carmelite Church, which is located in close proximity to the grave of the saint.
Each participant gave the little St. Teresa two rosaries while we sang the song: "Little St. Therese, we pray you, let it rain roses …" We felt the shower of roses in a very concrete way that evening: I received three (faded) roses that had bloomed at the tomb of the saint. Gladly I shared this treasure with all of the participants and so each one received and took home a share of the shower of roses, visible in the form of a few rose petals.
Do everything out of love
One more time we celebrated Holy Mass as a pilgrimage group together in Lisieux before departing for the trip home: "We placed our gratitude and our petition into this Holy Mass: Gratitude for richly blessed days where we saw the Lord in the footsteps of the life story of two young people.
Petition: that we learn from the life of Little St. Teresa and Joseph Engling, to do everything in our everyday life out of love; that is, to do the ordinary extraordinarily well. Might these two "saints" help us do this." (X)
We want to continue to pray for this grace for all the participants and for all those we carry in our hearts.