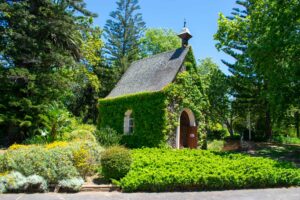 On Saturday 26th February 2022,
Holy Mass for the Sick, Aged and Physically-challenged members of our Schoenstatt Apostolate
was celebrated by Father Peter John Pearson in the House Chapel of the Sisters in Constantia, Cape Town. We were privileged to also have a Franciscan priest at the altar and members of the third order of St Francis in our midst. Due to Covid restrictions, numbers were limited, but 43 sick and elderly ladies and gentlemen participated in the Mass and thoroughly enjoyed Fr Peter-John's uplifting sermon. Sadly, since the previous annual Mass, a number of our members had succumbed to the Corona virus.
The Mass text honoured Mary, the Mother of Divine Hope. We surely need her intercession and fine example of patient endurance in the midst of all the chaos that is going on in our world, in our country and even in our own homes and personal lives. Mary McCrae a faithful member of the Schoenstatt Women's League, played well-known hymns on the organ. Lenore Greig, likewise a member of the Schoenstatt Women's League, was the cantor. Due to Covid rules, the congregation was requested not to sing.
Fr Peter-John's sermon riveted our spiritual gaze on the woman who touched the hem of Jesus' garment and was healed. Because of the flow of blood, such a woman at the time of Jesus was treated as a leper; her husband would disown her and others would avoid any contact with her. She was regarded as an outcast of society.  However, her humility, perseverance and faith in Jesus won the day.  Seemingly she managed to touch the hem of his garment, believing that he could cure her. According to Fr Peter-John, this was a deeply significant act as, at that time, the hem of the garment contained the detailed information of a person's identity, for example, the name, date, place of birth and possible occupation. By touching the hem she acknowledged Jesus and his power to heal her. Her faith was admirable, and Jesus not even knowing who had touched him, commended her faith and subsequently healed her.
Father then applied the significance of touching the hem of Jesus' garment in our daily lives. It was an encouraging and enlightening message to help deepen our relationship to Our Lord.
Before the final blessing, Sr Glynis thanked Fr Peter John, Franciscan Father Longinus and everyone for their presence. Together we renewed our consecration to our Mother Thrice Admirable as we prayed the Schoenstatt consecration prayer: "My Queen, my Mother …"
Suitably masked, we then gathered outside for friendly conversations and took the opportunity to engage with one another after a long period of being "Corona-distanced".