Sunday, March 13, 2022 was
a Tabor experience
for the members of the Schoenstatt Movement who had come to Dachau to commemorate the arrival of Father Kentenich there 80 years ago. The weather – a bright blue sky – set the mood.
It was a completely different situation than that in Ukraine and other war-torn areas, completely different than on March 13, 1942 when Father Kentenich was admitted to the concentration camp 80 years ago as Prisioner 29329.
In his homily Auxiliary Bishop Dr. Josef Graf, Regensburg, Germany, spoke of the contrast precisely between the second Sunday in Lent – the Tabor expeience in the Sunday gospel – and the reality of the concentation camp. Only when one looks deeper, he said, with a faith-filled glance, can one see also how the liturgical readings of this Sunday apply to Father Kentenich. The second reading from the letter of St. Paul reminds us that J Kentenich used the name Paul as an alias in his correspondence from the concentration camp.
Because of the cold and because a passage was blocked, the liturgy was moved at short notice to the Carmel Church in the concentration camp. Due to covid restrictions there were only places for 20 people! Precision work, the exact number we were. No one had to stand outside the door.The entire Schoenstatt family was represented: Institutes, Federation, League, and Pilgrims. After Holy Mass, a Carmelite nun briefly opened the gate to  Block 13 for us to pray there. At Block 26 we remembered the chapel of the concentration camp. In the Agony of Christ Chapel we prayed intensively for peace and at the request of one of the participants, we sang: "We shall overcome …"
In the evening it was possible to watch the movie "Ark and Lighthouse," a documentary about Father Kentenich in the concentration camp of Dachau. Afterwards, there was a lively exchange, "encounter" within the Schoenstatt Family – internationally. People wanted to hear how the morning had been in Dachau. Anton Pfaffenzeller and Sister M. Elinor shared the morning events.
In 1942, it was a Friday when Father Kentenich arrived in Dachau, and on Friday, the participants had already been prepared for Sunday by praying a digital Stations of the Cross. Heinz Dresbach, a fellow prisoner of Father Kentenich, could be heard as a witness of that time; years later he had led a Schoenstatt group in Dachau through the memorial site on the basis of the Stations of the Cross.
 From the homily of the Auxiliary Bishop
The Auxiliary Bishop drew attention to apparent contradictions:
"In the Gospel, the experience of light on Mount Tabor and for Father Kentenich, the arrival here in the hell of the concentration camp. The glorious Mount Tabor on the one hand and the humiliation of the prisoners here in Dachau on the other.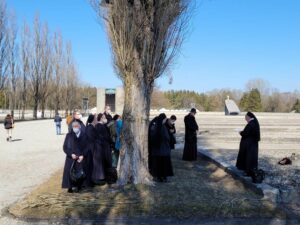 From A Life on the Edge of the Volcano by Dorothea Schlickmann, Auxiliary Bishop Graf quoted the introductory speech on May 13, 1942, of the block elder Hugo Gutmann who deliberately spoke in a provocative manner to Father Kentenich:
"You preachers talk about the Lord God! I've never come across him at this place!" He challenged Father Kentenich, looking him directly in the face, "Maybe you have?" – Father Kentenich's answer: "If you still haven't come across the Lord God in this place, then surely you must have seen the devil (p. 183 ff).

Auxiliary Bishop Graf continued in his homily:
"Yes, the prisioners must have perceived the concentration camp as a domain of the devil rather than as a place of encounter with God. A hell on earth instead of a foretaste of heaven, as the biblical Mount Tabor was. What a contrast between the quasi-heavenly scene and a concentration camp. At first gance that is how it is…And then the powerful voice from the cloud, the symbol of the presence of God. It proclaims Jesus as the Son of God…The Apostles were in great need of this testimony. And isn't it consoling to us? Even though light shown on the Apostles on Tabor, they would still doubt Jesus on Mt. Calvary … A consolation for us when doubt's about God come to us. A consolation for us when fear rises in us and our life becomes a way of the cross…"

"The Way of the Cross of Concentration Camp Prisoners. Father Kentenich was also not spared this cross. But there was another side to him, so to speak—the spiritual, the interior:  On his hard way of the cross here in the concentration camp of Dachau, Father Kentenich matured more and more in his surrender to the will of God and in followiing Christ…And so he could help others on their way of he cross in the concentration camp of Dachau. In physical and spiritual matters. Above all, for the priests who were imprisoned with him…"

"Father Kentenich's way of suffering in Dachau has become fruitful. His  Way of the Cross of Concentration Camp has become a way of salvation for many. One could almost think of the words of St. Paul: I complete in my earthly life what is lacking in the suffering of Christ" (Col, 1, 24)." 
"We may confidently believe that the exemplay priest Father Joseph Ketenich, with his immortal soul is sharing in the Easter victory. He walked a way of the cross not only for more than three years in the concentation camp of Dachau–probably Dachau was the time of hardest physical agony for him–but then, later there was the cross of being misunderstood. Suspected of lacking Catholic orthodoxy. The long years of exile in Milwaukee, USA where he worked fruitfully as a pastor."
"Might every way of the cross that Father Joseph Kentenich suffered and bravely walked continue to be a blessing for his community and thus for the entire Church. And may he soon be among those in our Church declared blessed."