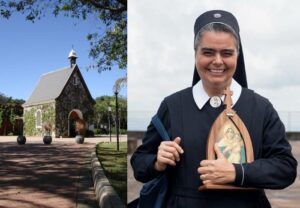 Schoenstatt Sister of Mary as Coordinator
for the Council of Shrine Rectors 
In this time in which Pope Francis emphasizes the roll of women in the Church, and on the synodal journey in which we are invited to live as a Church in communion, participation, and mission (cf. Preparatory Document) a Schoenstatt Sister of Mary—Sister Adraine Maria Barbosa—was appointed Coordinator for the Council of Shrine Rectors. Strengthened by the source of grace, the "Tabor Shrine of Freedom," the Schoenstatt Sisters have been actively coordinating and inspiring different branches of the Schoenstatt Movement for decades and thus have been active in the Church in the Archdiocese of Belo Horizonte/MG for decades.
The appointment was made by Archbishop Walmor Oliveira de Azevedo, current president of the National Conference of Catholic Bishops of Brazil. Sister Adriana was well accepted by the rectors of the 12 other shrines of the archdiocese. She greeted the rectors of the shrine with these words, "May the Mother of God, Our Lady, implore for me from Jesus all the graces needed for this new task."
The role of the Council for Shrine Rectors
The new coordinator explained: The rectors of the shrine support and inspire each other mutually. They exchange pastoral experiences. They promote and organize apostolic actitivities from the shrines: through spirituality, liturgies, popular devotions of the people, charitable works for the poor, and by fostering various artistic and cultural forms of expression that are in harmony with the Gospel. They discuss logistics of the shrines so to offer pilgrims a better welcome and experience. Here Schoenstatt can make a large contribution by sharing its long and comprehensive experience of great numbers and variety of pilgrims who come to the Schoenstatt shrines. "The Tabor Shrine in the Archdiocese of Belo Horizonte is present in practically all of the 180 existing parishes through the presence of the Pilgrim MTA Mother who is sent out from there," confirms Sister Adriane Maria."
The task of Sister Adriane Maria
Her task is to represent the rectors in the meetings of the Archdiocesan Pastoral Council and to preside at meetings that have been previously determined in consultation with the bishop.
The significance of this appointment
Sister Adriane Maria said that based on her experience as a member of the council in recent years, the presence of a Schoenstatt Sister of Mary in this council will allow for greater participation and interaction in the archdioces in the service of the Church. It is also a means to make the spiritualtiy of the Schoenstatt Movement, its apostolic dimension, and its method of evangelizing better known and understood. And she affirmed,
"Our presence means the presence of the Blessed Mother in the Church because we are her reflection." And she concluded with the words: "I accept this appointment as an instrument of our Mother as Heart of the Church and in the service of Schoenstatt placing at her disposaI — as Father Kentenich said —my knowledge and lack thereof but above all of my love for the Church as lived by and left as a legacy of our founder."
more: https://schoenstatt.org.br