SALAMAT – THANK  YOU – SALAMAT!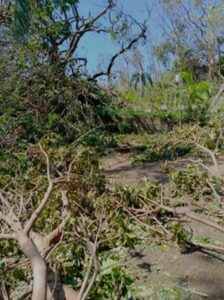 The people in the Philippines thank everyone with their Salamat for your generous help after the Typhoon Rai destroyed their homes just before Christmas in 2021.
With your financial aid many a family was able to start building up their home again after the fierce storm raged through the South of the Philippines.
Thanks to your aid our sisters were also able to begin with the repair of the buildings after a detailed assessment of the damage. Whether there is more damage than what is evident to the eye remains to be seen.
The clean-up job of the road around our centre and on the many slopes of our property presents its own challenge.
In the midst of the rubbish and the debris the workers marvelled at the little beetles doing their own job of nourishing themselves on the seeds of the plant that withstood the raging storm.
And while bushes and trees are uprooted and plunged to the ground, the blossoming shrubs and plants continued to bloom against all odds.
In the tropics there is always hope, hope for today, hope for tomorrow.
God's love is unending and always gives us some light on our way, a visible sign of his love, like the blossom and the beetle in the thicket of destruction, like your aid in the time of devastation.
Salamat – Thank you – Salamat!