After the great flood
in the Ahr Valley we Sisters of Mary wanted to offer urgent help. In addition to  a large financial contribution through the Diocese of Trier to the citizens, we immediatly started a donation-in-kind in our houses and businesses here in Schoenstatt. Many sisters also made contributions from their personal possessions. Thus we could pack over 50 large boxes with durable food, hygiene articles, clothing and so on. Before we were about to leave with the things we asked to which collection site we should bring them, but our offer was declined: Due to the unexpected high volume of contributions, all warehouses were overwhelmed and many packages were just left on the street. Weeks later nothing had changed:
 We had nowhere to drop off our "flood boxes."
Neverthless we wanted to help people in need with the goods we had collected. So finally we inquired of our co-sister Sister Erika-Mária Bukovics in Romania who with other sisters is active in youth and family ministry [if the donations could be used there.] Her answer: There is a great shortage of the most necessary things here and we sisters could distribute all of the things to specific persons. However, the organization and transporting of goods had to be financed by Schoenstatt. I entrusted this intention to our founder Father Kentenich and his help was noticeable.
I remembered Mr. Munoz from the Schoenstatt Family Movement in Spain, the owner of a transport company. Per mail I described our situation and asked for his help. With great effort, he found a way for a large truck to transport the things to Romania for 500 Euros. To finance the cost I contacted a benefactor who informed a bank about our endeaver and we received the money to transport the goods!

The long journey of the flood boxes: Germany-Poland-Romania
 On the evening of November 2, 2021 the flood-boxes were put onto the truck, meanwhile supplemented with warmer clothing, blankets, and bed frames. The next morning we received the news that underway the driver had to add several more Euro-pallets, had to deliver them to various places, and finally return to Poland. He couldn't tell us how and when our things would reach Romania! We worried greatly if our donations in kind would ever reach their destination?
Four days later we received the news from Sister Erika-Mária that the truck driver had delivered our boxes, bags, sacks, and bed frames safe and sound to a branch office in Temeswar, Romania! Now the sisters could distribute the valuable supplies in connection with the feasts of St. Martin, St. Nikolaus and Christmas. Meanwhile initial feedback has come from Romania:
Nothing is impossible with God!
We experienced this now in November with the transport of donations from Schoenstatt to Temeswar, Romania. The goods and gifts were in Schoenstatt, but at first there was no money to pay for them to be transported. So we sisters prayed that the Mother of God would open doors for us. We were certain that if she wanted them delivered, she would also find a way.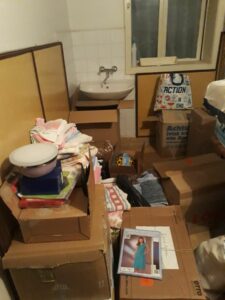 These ways are often unknown to us. To allow oneself to be guided by divine providence is not always the easiest way, but it is a wonderful way to experience the nearness of God and his care. Experiencing that always makes me very grateful and strengthens my trust and confidence: Nothing is impossible with God! When organizing a transport of goods I often experience that it is out of our hands. We can plan well, but in the meanwhile so many unforseen things happen.
So again, it also was exciting to see where doors would open for the transport of the goods. We are very grateful to all the people, institutions, for everyone who helped put all the goods on the truck and to take the goods off the truck, for all the cooperation within our Schoenstatt Movement and outside of it, for everyone who made it possibe that this transport of goods finally arrived in Romania for us. The people to whom we distributed the goods were very grateful and often said that they will pray for the donors. The very well-preserved clothing is much appreciated as are all of the other gifts. With the goods we could also support a parish we often collaborate with. The people of the parish transported the things to a village and there distributed them to people in poverty.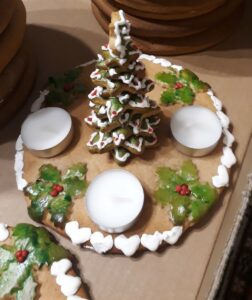 We thank everyone for your generosity, for your time, for all of the cooperation, and not least of all for your open heart for the people of Romania.
We wish all of you a blessed Advent and abundant blessings from God.
Sister Erika-Mária Bukovics