Sister M. Aloysiana Klaiber
May 4, 1917 – January 3, 2003
From Allgaeu to Schoenstatt
On August 24, 1945 shortly after the end of the second world war Sister M. Aloysiana Klaiber traveled an adventurous way to Schoenstatt, Germany in order to enter the community of the Schoenstatt Sisters of Mary. From Allgaeu she came with a small suitcase and a backpack, underway for several days– for example, on trucks carrying cheese or coal— through various occupied zones. Later she wrote,
"I arrived for postulancy on August twenty-fourth in ski-pants and boots".
Sister M. Aloysiana was born on May 4, 1917 in Wangen, Germany in the Allgaeu region. At the age of 33, her father died of pneumonia. She was 3 years old. Her brother was born at this time. At the age 15, Sister M. Aloysiana lost her mother to a brain tumor. Sister M. Aloysiana then lived with a family close to her while her bother lived with relatives in Friedrichshafen. Thus they were separated geographically for the next seven years.
After graduating from high school, she underwent a three-year apprenticeship as a pharmacist assistant and then worked in this profession until she entered our community on August 24, 1945.
Secret Schoenstatt Meetings
In 1933, the year her mother died, Sister M. Aloysiana came to know Schoenstatt and from then on was active in the Young Women's branch of Schoenstatt. In this way, Divine Providence simultaneously gave her a new family. After 1933, it was very difficult for members of the young women's branch to have meetings. During the period of National Socialism such meetings had to be clandestine, in secret. The former Sygenstein Castle was located in the vacinity of Wangen (Eglofstal). Its owner and occupants allowed meetings provisionally. Of course, the meetings also had to be kept secret. But everything went well.
In 1934, Sister M. Aloysiana came to Schoenstatt for the first time for a conference for youth and in 1935, there she sealed her covenant of love with the Mothe of God. She met the founder of Schoensatt, Father Joseph Kentenich, for the first time at this conference. In August 1939, on the occasion of another conference in the Retreat House in Schoenstatt she first heard a talk by Father Kentenich.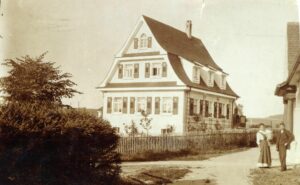 In this year her brother returned to Wangen after completing an apprenticeship. For a short time they shared an appartment, until he was drafted into the military in October 1940.
When she entered the community of the Schoenstatt Sisters of Mary, in 1945, she did not know where her bother, who was a prisoner of war in France, was. So she left a letter of farewell at home for him that he found months later when he returned in May 1946. Among other things she wrote:
"My dear brother!
How very much I would have liked to speak to you and entertain you in our parlor! Who knows where you are! My thoughts are always with you and I pray very much for you. Our dear Lord will protect you and the Mother of God will guide you safely.  Please do not be sad or even angry with me for having "taken off." There was no other way.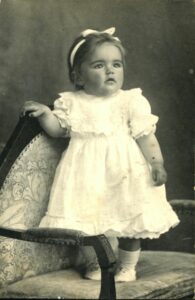 The [Blessed] Mother arranged it so and I want to take her lead. I gladly follow her and am happy concrete direction has been finally given to my life. Only, as I said, I am burdened with worry about you. But I put this into the heart of the [Blessed] Mother every day (…)
My dear, dear Anton! What should I say to you? Remain faithful to the example of your parents and do not forget the Mother of God. Painfully I wait for your return, or at least for news about you…With steadfast love, greetings, and a hug,
Your, Aloysia"
Actually Sister M. Aloysiana wanted to enter the community already in 1943 during the Nazi period, but she had to cancel her planned entrance because she was not released from her profession. She was very sad about that and wrote to the sister responsible: "…I always have to think that our good Lord did not put this longing into me to torment me with it, but rather, he surely will lead it to fulfillment. Every day should be even more a preparation for me."  (Letter of February 8, 1943)
A happy novice
Three months after the end of the war, the way [to enter the community] was freed for her. Together with her course sisters, on November 3, 1945 Sister M. Aloysiana received the dress of the Schoenstatt Sisters of Mary. Among other things, in a letter of November 11, 1945 she relates to her Aunt Sofie:
"Yes, my dear aunt, I am now a happy novice in the dress of a Schoenstatt Sister of Mary…I was not the only one who had no guests. It was a pity, because I would have wished for you and all the others to have experienced the beautiful celebration. Our dear Mother of God took care that I did not feel sad because of this; I was completely at peace and had quiet joy."
As a young sister, she initially worked as a secretary for the directress of the novices. Soon after that she joined the circle of sisters who work for the Schoenstatt Movement. There she commited herself untiringly and with great inner zeal especially for the branch of professional women (Women's League). She also developed a rich source of literary material for the entire branch. Looking back, a fellow sister recounts:
"She wrote very capably and with enthusiasm for the magazine of the Women's League for decades exuding much founding and Schoenstatt spirit in it. I have always marveled at how responsibly and with what joy she took on this task. … She was linguistically gifted and could express things aptly and succinctly or even improve a text … I learned much from her in this regard."
Something striking about Sister M. Aloysiana was her sense for history and her responsibile approach to it. She meticulously researched Schoenstatt history and provincial history. Even at the age of 80, she acquired computer skills in order to work more effectively.
Gripped by the mission of Schoenstatt
She always considered it a special gift that she was able to know the founder of Schoenstatt and to collaborte with him in building his work.  Through Father Kentenich she, who had only experienced a father the first three years of her life, came to a vital relationship to the eternal God the Father. Her deep attachment to him was the secret of her life, her source of strength and blessing, and probably also the reason for her great enthusiasm for Schoenstatt.


The founder himself very much appreciated her genuine, authentic nature. During his exile he once said to his secretary:
"If you want to see someone who is totally gripped by the Schoenstatt mission,
who lives and dies for it, you must meet Sister M. Aloysiana in Germany."
Many groups were able to experience this, especially in later years, when they toured the Covenant House, the first "Movement House" of the Schoenstatt Movement. It was a real joy for her to convey Father Kentenich and his spirit, and nothing was too much for her. After one such tour one of the participating men said:
"What impressed me most was the sister. She talked about Father in such a way that you thought if you grabbed the doorknob, you'd have his hand."
She was passionate about bringing the person and mission of Father Kentenich closer to the people and making him accessible to church circles. Everything that had to do with Rome and the universal Church literally electrified Sister M. Aloysiana.
A genuine original
What she communicated to others she lived, always aware she was a work in progress. Once she confessed to a co-sister very sincerely. As a novice, in view of the original Schoenstatt system of education, I thought: Well, a few years of rigorous, intense, focused striving, and then I should be holy. And now I am already so old and still not holy.
Sister M. Aloysiana was very original, a true original, and in this way always won hearts for that which she herself lived: for her great love for Jesus Christ and his Good News.
Towards the end of her life, she suffered many years under a progressive, severe hearing impairment which as a pronounced community person caused her great pain.
A heart disease, which became acute in the final months of her life ultimately led to heart failure at the beginning of 2003. Thus, shortly after Christmas, she was allowed to go home as a peaceful child – the Christ Child took her home into an eternal Christmas.