At the beginning there was the question: Is it really the will of God to accept this position?
When we considered within the community whether I should accept the new task in the Episcopal Ordinariate of the Diocese of Rottenburg-Stuttgart, the decision was not so easy. After a longer back and forth, the decision was positive: We agree to take up this task.
From All Eternity?
Now I would like to invite you to discover with me how Divine Providence showed us through small signs that it had been in the plan for a long time and that it was exactly right to answer the request with a yes.
Often it only becomes apparent in retrospect whether a life's decision or a decision of our everyday life was right or wrong. At that specific moment, it is difficult to discern a clear picture from the confusion of voices speaking for and against. Only by living and acting do we succeed in deciphering the Father's plan.
Project with Contacts in Poland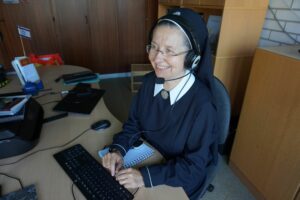 What is the project about? The Diocese of Rottenburg-Stuttgart started a project to establish contacts in the former German areas that are now Polish. Today's eastern part of northern Poland used to belong to East Prussia. Since I myself come from Silesia, today's Polish territory, I am well acquainted with such connections. Although I have lived in Germany for over 20 years, I grew up in Poland. Thus, my joy grew at being able to work my way into my native territories. How surprised I was when, during the first contact, I learned from the local priest that the place we are dealing with in our project is five km away from Prossitten, the home village of Joseph Engling! He told me about it when he learned on the phone that I belong to the community of the Schoenstatt Sisters of Mary.
Joseph Engling Makes his Presence Felt!
How wonderful, Joseph, that you found me! I have always been interested in finding out where exactly this Prossitten in Poland is, because Silesia and Warmia are far apart from each other. Now Joseph himself has "invited" me and brought me close to his native town. The priest was very pleased to hear that I belonged to the Schoenstatt Sisters of Mary. He said with pride that they have the co-founder of the Schoenstatt Movement among them.
Later, I was able to speak with Ms. Alicja Kostka and learn some of the latest activities of the Schoenstatt Family in Prossitten. It was very gratifying to hear that interest in Joseph Engling is growing and that the Schoenstatt Family wants to implement, build, and reshape many things there.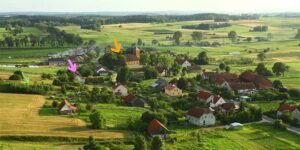 In this way, thanks to the diocesan project in which I am involved, I have discovered the home of Joseph Engling in my own homeland. At the same time, this fulfilled my long-cherished wish to get to know the surroundings of Joseph Engling's birthplace, which is located in what is now Poland, my homeland.
Another Surprise
A few weeks later, another surprising event occurred. As I was reading up on the history of the Catholic Church during the turmoil of World War II in the areas of Warmia, I came across a name that seemed familiar: Bruno Schwark. I wondered if he might belong to the circle of Schoenstatters. It was not immediately clear to me why the name sounded familiar. After further research, it turned out that he is a priest who had been active at Liebfrauenhöhe, Germany, for a while. But how does a priest from Warmia like Dr. Bruno Schwark, who was even a cathedral chaplain there, come to be a house chaplain at Liebfrauenhöhe? Dr. Bruno Schwark emigrated to Germany after World War II as a result of the severe persecution of the clergy by the Red Army. Here he worked as a chaplain for those driven from their homes, and in the end he found his place in the recent establishment of the community of the Schoenstatt Sisters of Mary on Liebfrauenhöhe. He died there in 1963 at the age of 80.
His grave is even located in our sisters' cemetery on Liebfrauenhöhe! That is why the name sounded so familiar to me. However, in this completely different context, I was not prepared for the fact that this name, which I had read in the Polish history papers, is at the same time on one of our graves and that it is really this one person.
Looking Ahead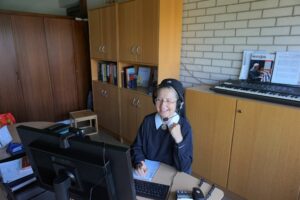 It is very nice that in September 2021 a delegation with several cathedral chaplains from the Archdiocese of Warmia will be guests at [our center in] Liebfrauenhöhe. A walk to the cemetery will certainly be part of the program. Finally, confreres from the same homeland and episcopal curia from Allenstein will meet – only a little bit shifted in time.
Isn't it exciting and interesting to perceive these connections and interweavings of God's guidance? Of course, the cathedral chaplains will visit this tomb. Who would have thought?
As I am in the midst of this project, I am eager to see what Divine Providence will bring about and how the further cooperation will turn out.