Sister M. Lumengarda Kner
February 6, 1914 – January 9, 2002
At the farm near Maria Rast House in Germany, one could hear the voice of little Nico coming from the neighboring forester's house. He was with the cows and called to them, "Rejoice, rejoice, Sister M. Lumengarda is coming!" Yes, the "stable sister" was popular with the children and also with the animals. In her original way, she had given a name to each cow, and the animals obeyed her. She loved her job, and this was felt not only by the local children, but even by the animals and plants she had to deal with.
This "Little Sister"
Who was this "little sister," as the children called her, who since 1955 was entrusted with the agricultural business at the then provincial house of the Sisters of Mary in Maria Rast near Euskirchen?
Sister M. Lumengarda was born on February 6, 1914, in Dächingen, Württemberg. There she grew up in a large family. One of her brothers, the well-known priest and writer Monsignor Anton Kner, chose a religious vocation like she did.
After attending elementary school, Sister M. Lumengarda took sewing courses and acquired rich insights in agricultural housekeeping. During this time she became acquainted with the nascent Schoenstatt Movement in her native southern Germany. She first joined the Women's League, but three years later, at the age of 24, she decided to become a Schoenstatt Sister of Mary.
Instrument in the Hand of the Blessed Mother
What motivates a young person to take such a step? Sister M. Lumengarda's motivation was: "I want to work completely selflessly for Christ and his Kingdom as an instrument in the hands of the dear Blessed Mother!" With this goal in mind, she entered the Secular Institute of the Schoenstatt Sisters of Mary on October 10, 1939.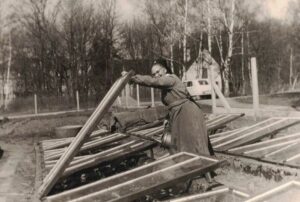 She would have liked to study to be a nurse. But she renounced this desire out of love for our community. She saw that she was needed at another place in those poor early years. In accordance with her previous experience, Sister M. Lumengarda was employed already as a novice in field and stable work on a farm in Sutum (now incorporated in Gelsenkirchen), which had been newly taken over in 1940.
The war and post-war years were marked by many dangers for the young sisters. Because of the nearby "weapon forge" of the Nazis, the Krupp Factories in Essen, they had to constantly expect that they and the farm would fall victim to air raids and shellfire. There was no air-raid shelter, and the nearest bunker was far away. Even the end of the war did not bring an end to the horrors for Sister M. Lumengarda. The starving forced laborers, whose human dignity had been violated, roamed the area in groups, robbing and murdering. The sisters' farm, too, was afflicted by this for weeks. Sister M. Lumengarda had to witness how the house was plundered. It was precisely in these experiences that she was able to experience the protection and care of the Blessed Mother, and she recounted them gratefully in later years.
Sister M. Lumengarda's next place of activity was Oberhausen-Osterfeld from 1950 to 1955, where she cared for the garden, the chickens, and the pigs of the children's home with much love and care. The way she sanctified and mastered the little things of her daily life radiated even into the local parish.
From 1955 on, Sister M. Lumengarda used her abilities and her strength in the agricultural business in Maria Rast with great love and expertise – for the next almost 40 years.
All Work Serves the Glorification of God
The hard physical work was often difficult for her, especially since she had suffered from a heart defect ever since she was young. Nevertheless, she mastered everything with great naturalness and from the deep conviction that all work serves the glorification of God. This attitude gave her a healthy sense of self-worth. It would never have occurred to her to consider her activity as "inferior" work compared to the tasks of other fellow sisters. Both in winter and in summer, in sun and rain – every morning Sister M. Lumengarda got up long before her fellow sisters to milk the cows. When the work was done, she changed her clothes and attended the early morning Mass with the community. She never said a word about the sacrifices involved. For her, it was a matter of course.
She drew inner strength for her daily life from an encounter with the founder of the Schoenstatt Movement, Father Kentenich. This experience was so valuable to her that she wrote it down:
"When asked by our founder, 'How is your health?' I said, 'Father, I am never without physical pain.' He replied, 'This is a special gift from the dear God. He wants to constantly remind you of his presence through this.'"

A Big Heart for Children
Sister M. Lumengarda was a joyful and kind person who had a big heart for children. She gladly took care of the small children during family retreats. She brought them into a space in the barn, had a carpet spread out on the floor, and occupied herself with them. She had a special talent for telling the little ones beautiful animal stories. She showed the older children the cows. They were allowed to watch the milking process and even taste the warm milk. However, this was a real test of courage for them. The children from the city often said: "The bought milk from the refrigerator tastes better!"
Every Potato a Prayer
Gradually the farm had to be reduced. First the cows, then the pigs, and finally, in the winter of 1993, the chickens were eliminated. This was a painful process for Sister M. Lumengarda. She was now almost 80 years old, but far from thinking of retiring. She found her new job mainly in the kitchen of the Movement House, where large quantities of lettuce were often cleaned and potatoes peeled. Sometimes she mentioned that every time she peeled a potato, she would ask Our Lady to bless the people who would eat the potatoes the next day.
In her distinctly apostolic attitude, Sister M. Lumengarda followed not only world events with alert attention, but also all the undertakings in the Movement and in the training center. Where possible, she herself helped with large events in various places.
Apostolate of the Daily Hour of Adoration in the Shrine
She knew how to put every little thing she did at the service of the mission of our shrine. An important apostolate for her was the daily hour of adoration in the shrine. She especially enjoyed it when during "her" time her "friends" came who had entrusted or wanted to entrust a sorrow to her. Some people would simply kneel in her pew to pray with her. Many deliberately chose this time in order to meet Sister M. Lumengarda. If she could not be present, they immediately asked if something had happened to her.
Sister M. Lumengarda possessed a special radiance. Her basic attitude was gratitude and contentment. One always experienced her as joyful. In addition to her many practical skills, she possessed rich spiritual gifts, which she gladly and naturally contributed to the community. Through her active participation in meetings and her pronounced sense of history, she made a significant contribution to the life of her house community. Several times she was also entrusted with tasks of special responsibility in the local community of sisters.
"She modeled for us how to do it in our old age."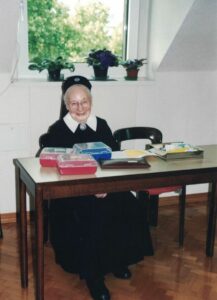 Those who experienced Sister M. Lumengarda in her childlike and at the same time powerfully austere manner had no idea how acutely ill she was. Fellow sisters said of her, "She modeled for us how to do it in old age," or "She modeled everyday sanctity for us."
Shortly after Christmas 2001, she began to experience acute heart and respiratory problems. The medications prescribed by her family doctor brought no relief. So, for the first time in her life, she had to be hospitalized. There, it was determined that her condition was life-threatening. When the hospital chaplain administered the sacrament of Anointing of the Sick to her in the morning, she was still alert and able to absorb everything and pray along. Around 3:00 in the afternoon – it was January 9, 2002 – the Eternal Father took her home to the joy of eternity after a rich and fruitful life in his service.
What her brother, Monsignor Kner, summarized after her death, we can only underline:
"She was a gift for all of us!"