Sr. M. Bernolda Winkels
was born on 29 August 1906 in Essen, Germany and joined the Schoenstatt Sisters of Mary in 1933. Five years later she was asked to go to the missions of South Africa, which in those days meant that she would never see her home country again. She generously accepted the challenge to witness to Schoenstatt and the Blessed Mother in a foreign country.
Fully qualified dressmaker
Sr M Bernolda was a fully qualified dressmaker and using her skills, helped the young community in South Africa to be financially independent. She earned money as a dressmaker, but also sewed for the sisters.
The Archbishop of Cape Town was very concerned about the needs of the thousands of families relocated on the Cape Flats due to the 'Apartheid' system of the country. There was endless suffering and misery and many families struggled to re-establish their homes. He asked the community if there was a sister who could help. Sr M Bernolda, happily rose to the challenge of the task.
She went to the various townships, made contact with the Catholic mothers and soon realised they needed help all round. She shared all her gifts and talents, offering home-making skills – cooking, baking, sewing and budgeting, how to stretch the little money they had. The news of her abilities and her positive influence quickly spread, and she was invited to give classes and have meetings in the public community centres which had been set up. One centre manager even insisted that the Municipality give her financial support!
Mother of the Cape Flats
Sr M Bernolda was a warm, outgoing and compassionate person. The mothers grew to appreciate and love her not only for what she taught them, but for her motherly care and spiritual support. The needs of their families became her needs, and she tried to help. She made friends with the managers of various factories and they let her have off-cuts and the material she needed for reasonable prices. Sr M Bernolda also collected warm socks in big bags from a factory for the many fishermen of the Cape Flats. It earned her the title – Mother of the Cape Flats.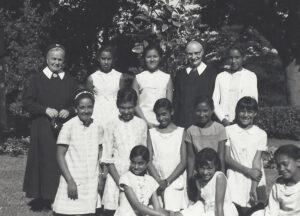 The true greatness of Sr M Bernolda was that she had the ability to give hope and encouragement in dire need and in circumstances that seemed unsurmountable. A mother who was told by the doctor that she expected twins was devastated because the family was so poor. Sr M Bernolda managed to dry the tears and helped in very practical ways so that everything that was needed was there when the twins arrived. Sr M Bernolda was often asked to intervene in marriage and family problems. She had the ability to listen and to discern the root cause, and through her understanding and wise guidance she often mediated a solution and reconciliation. She supported these difficulties with her prayers and sacrifice but also encouraged the families to pray and share their problems with Our Lady in the shrine.
One day the Archbishop called her and greeted her with "Mother of the Cape Flats"! He must have heard of her newly acquired title and enjoyed using it. He shared another of his problems with her. The students of the Minor Seminary were very unhappy with the food and refused to eat it. She visited the Seminary and came back to the Archbishop and declared that she, too, would not be happy with that food. However, she had made friends with the cooks and would work with them for some time, showing them how to make the food more appetising. Her efforts were successful and blessed, soon the pots were empty! A friendship developed between Sr M Bernolda and the cooks. They enjoyed her interest and often called on her for advice.
Mary for Africa
Sr M Bernolda was a credible witness to our Mother Thrice Admirable and drew her strength from the covenant of love. Before getting into her little van each morning, usually laden with sewing machines, kitchen utensils and all that would be needed on a particular day, she went to the Shrine and asked for the blessing of God, Our Lady and our founder for herself and all whom she would meet. She led many people to the shrine, and many of the mothers and families found their way into the various branches of the Schoenstatt movement.
She was a quiet person with a warm, compassionate heart, a clear and positive mind, a sincere concern for the poor and marginalised, dedicated and committed to her mission 'to be Mary for Africa'. Her life reflected what is written on our brooch: Caritas Christi urget nos. Her great love for God, Our Lady and our founder, urged her to give her all in their service, and where God had planted her, she truly blossomed – she was a credible instrument of love, hope and peace.