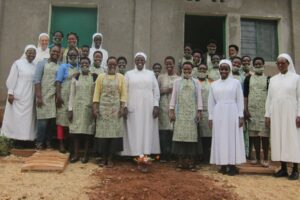 The labor force of Burundi has a high level of unemployment in general and particularly among young people, including those with university degrees. There is a concerning disparity between those seeking employment and employment opportunities. The great  majority of people who have completed school, above all those with a lower level of education, are hit with unemployment.
An unemployment rate of 13.3
In Burundi more than 60% of the population is children and youth. All the more reason the problem of unemployment among the youth (13.3%) is cause for concern. Also in rural areas the living conditions are worrysome pushing young people to emigrate. Thus the number of those seeking jobs becomes even higher. Young people are neglected. The situation leads to frustration and increasing tension within our society. Those who have jobs receive only a meager salary and they can hardly make ends meet. Their only hope is based on their Christian education which calls them to trust in Jesus and the Virgin Mary.
 Learning a profession
Against this background, in the Spring of 2021, the Schoenstatt Sisters of Mary opened a center in Burundi with the name "AKAZOZA KEZA" = "A GOOD FUTURE" to train professional seamstresses. This center is aimed at women and girls with a basic level of education who want to learn this profession in order to improve their lives.
Developing personal skills
Alongside learning the profession of seamstress, the education concentrates on community life, creativity, and attempts to develope the talents and skills of the individual. Poverty is an important factor that hinders a person from thriving and growing in faith. The center for seamstresses enables the women to develope positive visions. Each woman devises a plan that is self-financed and develops a project that generates income.
Training other seamstresses
The teacher is a young woman who is married. She is a good seamstress and is very active in training other seamstresses. A woman from Germany who belongs to the community of Schoenstatt Academic Women has agreed to pay the salary of the teacher. The women in training attend classes Monday through Friday from 8:00 AM – 12:00 PM. The program lasts six months and is divided into different modules: machines, materials, various instruments, cutting and sewing garments, using patterns, etc.
A small house with few machines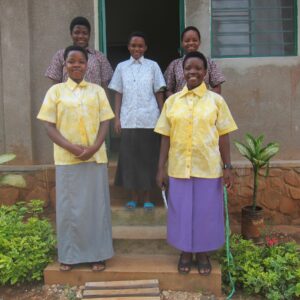 Each woman who wants to receive the training is required to pay a small registration fee for the purchase of school materials and for equipment. When we began, we were surprised by the many inquiries. This told us of the importance of the program in offering more people in Burundi the opportunity to learn a profession. Unfortunately, we are very limited in what we can offer: The house is very small and we don't have enough sewing machines. Consequently we have to limit the program to 20 women and girls.
The women are happy
In selecting students, we looked at the number of years of unemployment of each woman. There were women who had been unemployed for 10 years, others 8 years, 7 years. We accepted only those who had been unemployed for a minimum of 3 years. The women are very, very happy to become seamstresses. They are happy to find something that generates an income for themselves and their family. In September we want to be begin with a second group. Already now many are requesting acceptance into the program.