Sister M. Josmaris Treml
November 22, 1923 – April 20, 2011
Sister M. Josmaris was born on November 24, 1923 in Hercegfalva, Hungary, the third of four children. She lived in a small rural village whose citizens managed monastery estates. She liked to recall the lovely, joyful years of her youth. They were stamped by the deep experiences of the annual liturgical celebrations. As was customary at that time for all of the children in rural areas she worked on the farm after completing six years of school.
In 1946, when she was 23 years old, the communists took over Hungary. Her family was expelled and eventually they made a new home in Stuttgart, Germany. Through contact with a priest of the Schoenstatt Federation in the Parish of St. Nikolaus and through the credible witness of a nurse of the Schoenstatt Federation, the decision matured in her to enter our secular institute. She knew almost no German and everything was new for her, but her love for the Blessed Mother gave her the courage and strength to dare this step. After novitiate, she worked initiatlly in housekeeping in various houses. From 1969 on, she worked in the kitchen of the training center on Mt. Schoenstatt, Germany.
Always fostering joy
The life of Sister M. Josmaris was, outwardly seen, unremarkable. But she had a great consciousness of mission out of which she gave all for Schoenstatt. Sister M. Josmaris was diligent, silent, and thoughtful. Nothing was too much for her. In her motherly way, she especially knew how to help the young sisters when they couldn't manage with the work assigned to them. With her, they never had the feeling of being incapable of doing a task. Rather, they were grateful to learn something new. Jokingly, she was even called grandmother. One sensed a prayer atmosphere in the midst of all the work she was doing. She was always attentive to the fostering of joy in the house community. Once, when the sisters were wondering, in view of serious time constraints, whether carnival should really be celebrated, she spontaneously said, "If we celebrate properly, then we will fast properly."
Sister M. Josmaris loved order. She was always conscientous and kept order in her place of work and in her personal realm. She was an apostle of poverty and only possessed that which was essential.  In all her behavior she was plain and unobtrusive.
Mission for Hungary
As a young sister, Sister M. Josmaris once met Father Kentenich personally. He looked at her and said:
"I know you well. You need to go back to Hungary."
Sister M. Josmaris kept these words of Father Kentenich in her heart her entire life. In 1953, when her parents and two sisters were allowed to enter the USA, Sister M. Josmaris was asked whether she wanted to follow them and join the province of Sisters of Mary there.  But Father Kentenich's mission kept her from taking this step.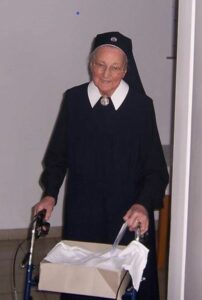 She never did return to Hungery. However, that which she longed for her beloved homeland, Hungary, became true in another way: Schoenstatt took root in Hungary and a Schoenstatt Shrine was built there. Many pilgrims from Hungary knew that Sister M. Josmaris represented them in Schoenstatt. It was understood that they would visit her when they stayed in Schoenstatt. Sister M. Josmaris had great joy when the first young women from Hungary and Romania joined our community. She prayed much for them. In them, she saw the task fulfilled that she had received from Father Kentenich.
Becoming an adoration sister in advanced age
When the work in the kitchen became too difficult for Sister M. Josmaris, she worked in the sewing room doing many little, unseen services for her co-sisters. She was always eager to be there for others and to do good. She liked to visit the Schoenstatt Shrine frequently with her walker and to pray there.  When that was no longer possible she prayed the Rosary with the elderly sisters or prayed silently in the house chapel of the training center. She always had a rosary in her hand when she was walking in the house. She became a silent adoration sister especially in advanced age.
She never spoke about her health even though she had a serious heart condition. She bore her complaints silently and patiently for her mission. As modestly, simply and humbly, as she lived she quietly fell asleep in the midst of her co-sisters on a Wednesday in Holy Week—on the way to Easter. She loved St. Joseph and it is also a beautiful sign that she could return home on a Wednesday, the day specially dedicated to St. Joseph. We believe that from eternity Sister M. Josmaris continues to fulfill her mission for Hungary.