A Sister with a Huge Heart
Sister M. Franciszka Orzeł is a sister who left indelible traces on our community, and I believe it is not only because she died relatively recently —suddenly and unexpectedly for all of us— as a result of a severe case of the corona virus. Her profile is reflected in her last name: "Orzeł," which means "eagle" and is associated with a majestic, extraordinary bird that "soars high." The life of Sister M. Franciszka was "beyond average." She never lost sight of a clear goal in her life: God. And the greatest wish of her life was to bring as many people as possible to God—from all nations.  She was ready—literally—to go "to the ends of the earth" to be apostolic everywhere and to tell people about God and our way to him through the covenant of love with the Blessed Mother.
A missionary from childhood on
Sister M. Franciszka was born on January 7, 1954 in Nowy Sącz, in the mountainous region of Karpaten in the southern area of Poland. From her parental home, she brought with her deep religiosity and a strong personality. During her school years in Lyzeum she was active in the life of her home parish and was enthused about the missionary work of the Church. Her desire to participate in the missionary work of the Church led her to our community. This zeal to evangelize accompanied throughout her life.
In June of 1974, Sister M. Franciszka joined our sisters' community in Otwock-Świder. Immediately after the novitiate, she founded a missionary circle to animate the missionary spirit of the community and to support our missionaries with prayer. She completed medical training and became a nurse. Later she also completed a degree in Theology.
Always in search of "something more"
In August 1983, the province made it possible for her to participate in a language course in Germany so she could then participate in an international seminar in Schoenstatt, Germany. After her return, she fulfilled various tasks in our community, among them: Provincial Assistant and the responsibility for the sisters who do ministry in the Schoenstatt Movement. However, there was still great zeal in her that called her to "something more."
In June 1978, she began her work with the Girls Youth in the Diocese of Opole (Oppeln); on behalf of the department of pastoral ministry in the diocese she carried this work out with apostolic zeal. In collaboration with Sister M. Franciszka, an "apostolic network" was formed in the Diocese of Opole which often included multiple localities. In these places the youth work of the diocese flourished.  Years later, this work bore blessed fruit in numerous Schoenstatt Girls' Youth groups and vocations to our Secular Institute. Because of her task, Sister M. Franciszka also had the opportunity to participate in several international pastoral meetings.
In May 1990, Sister M. Franciszka went with the first group of sisters from our province to Grodno in Belarus (White Russia). It was her concern to find opportunities there for our apostolic work and to establish sites for the Schoenstatt mission in this country. With courage and extremely selflessness, she became active and helped build the structures of the local church – among others, the "Caritas" and the seminary.
With her talent for organization and her pronounced ability to make contacts, she was also able to help many local people. Since 1992, she took up responsibility for our sisters working in Russia and for supporting the life of the local church.
During the seven years of her sacrificial service in Belarus, Sister M. Franciska left her mark on the hearts of many people and, one could also say, that she left part of her heart there. She often told us about this apostolic work and awakened in us apostolic zeal and responsibility for proclaiming our mission, especially among the Slavic peoples. She dreamed of going to China one day.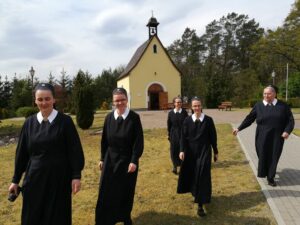 In 1997 Sister M. Franciszka was appointed Provincial Superior of our Province in Poland and served in this capacity until November 2009. During this time she devoted all her talents and strength to our community.
In 2010, she was appointed superior of the filiation in Koszalin. There, too, she impressed herself upon the memories and hearts of many people. After six years, in 2016, she was transferred to Bydgoszcz (Bromberg) and was responsible there for the pilgrims' branch at the Shrine of Confidence. With untiring zeal she was available to the pilgrims and committed herself especially to the Pilgrim MTA apostolate in this region of Poland.
In the midst of her active ministry, it was discovered that Sister M. Franciszka had been infected with the Corona virus. Her body, already weakened by other maladies, resisted, but hospitalization just before Christmas – on December 23, 2020 – was unavoidable. The doctors tried everything to save her life. Sister M.  Franciszka consciously understood her hospitalization as union with the mystery of our crucified Lord. With great spiritual maturity she treasured this time given to her by the Heavenly Father to prepare herself to meet him in eternity. We, the province community, prayed and trusted during this time that she would overcome this illness. But God's plan was different. Sister M. Franciszka died on January 4, 2021. We believe, however, that the sacrifice of her life will bear rich fruit.
Blessed Fruits
In the person of Sister M. Franciszka, our good Lord blessed our province with a great, original personality! Joyfully and with openness to our community and its mission, she contributed everywhere. Undaunted, she met the demands and challenges of the time. With interest, with prayers, and with sacrifices, she embraced the great concerns of the Church and the world. She felt especially responsible for the missionary dimension of the Church and for the holiness of priests. She was in contact with many priests and supported their priestly ministry with her words and with her prayers.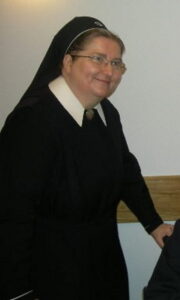 As a person she was simply childlike, sincere, spontaneous, and likewise very courageous, responsible, and 100% involved in everything. Life and mission were "passion" for her. There was life, humor, joy when Sister M. Franziska was present.  She was a born missionary and apostle. She saw the dignity of the child of God in every person and everyone was important to her: a child in kindergarten, a simple woman from the country or a bishop. She could make contact with each one and leave a trace of love. A priest expressed it this way after her death: "She simply showed everyone that he or she is good, has abilities, and can make commitments: She gave one wings and taught one how to fly. As an eagle should."
We received many words of sympathy after the death of Sister M. Franciszka. Numerous people wrote that they would miss the joy and optimism of Sister M. Franciszka. The sudden return of Sister M. Franziska to the Heavenly Father was very painful for us too. But we believe that also now, perhaps even more than before, we can count on her prayers in all the intentions of our community, of the Schoenstatt Movement, and of the Church.