A new App from the Schoenstatt Sisters of Mary of the Tabor Province in Brazil
has been prepared to accompany you on the path of discerning your vocation.

"Wake Up, Youth!"
There you will find a selection of podcasts, music, prayers, ideas, testimonies, witnesses, videos, and inspirations for reflections. Other series and audiobooks will also be posted there in the future. You can look forward to the updates.
The content of this app was developed by the Sisters of Mary and a team of young people. Open the App and see who the authors are: Professionals and benefactors have contributed to this endeavor.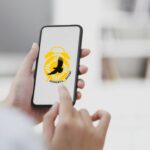 And don't forget to download your App "Awake, Youth!" and use it as a source of inspiration. It will challenge you to make the greatest discovery of your life: The vocation to which God is calling you.
This is about you! So
"Wake Up, Youth!"