Eyes, Ears, and Heart of the Blessed Mother
A new way of actualizing the covenant of love with the Mother Three Times Admirable of Schoenstatt (MTA) has begun among the leaders of the Schoenstatt Movement in Brazil:
The Schoenstatt apostolate for vocations.
In concrete terms, this means searching with alert eyes for the pearl that is hidden in the hearts of many young people, the pearl of  a vocation to be a Schoenstatt Sister of Mary.
The project came about because it is difficult for the (Schoenstatt) Sisters in charge to accompany vocations in such a large country as Brazil. On the other hand, the initiative was sparked by the members of the Schoenstatt Family who wish to see the number of Schoenstatt Sisters of Mary increase, not least the number of Movement Sisters.
Ready to listen and to perceive with a Marian heart, these leaders are responding  generously to Pope Francis' invitation to the laity who work in the pastoral care of vocations: "To help young people discover their vocation, you have to invigorate yourself, to move about with them, set out with them on the path, and  help young people speak with the Lord of the harvest so that through him they can discern their own vocation."
A yes that remains always young
The youthfulness that the members of this group radiate is rooted in the Blessed Mother's promise in Schoenstatt's Founding Document: "I will draw youthful hearts to myself and train them to be useful instruments in my hand."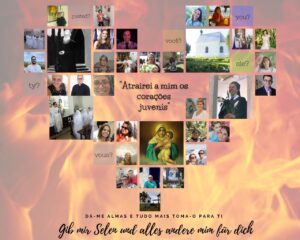 Give me souls, and keep all else for yourself
This prayer of our Father and Founder, Father Joseph Kentenich, rests today like a commission on the shoulders of those collaborating in the pastoral care of vocations. Under the protection of Mary they allow themselves be sent to young people as a sign of hope, so that young people will recognize Jesus when he touches their lives and extends to them the invitation of a vocation. Pope Francis tells us, "The Church needs men and women, lay and consecrated, who fall in love with the mission of Jesus Christ and have the courage to put their lives on the line for this work."
The group prays and, due to the pandemic, offers their capital of grace virtually (to the MTA in the shrine.) It delves into the way Father (Kentenich) guided the youth, helped them find their vocation, and led them to its heroic realization.
In the picture  we see some of these first collaborators as this mission is  imparted to them.