The annual Oasis Days in Schoenstatt/Marienland
is a day for women treasure:  meeting with a large community that is like-minded, visiting the Mother of God, strengthening one's faith, enjoying being together, being attended to in the Marienland Conference Center, returning to everyday life with new inspiration and renewed strength, and much more.
From March 15-19, 2021, seventy to eighty women met again (for the Oasis Days). However, this workshop had been canceled for the second time because of the coronavirus pandemic. The lockdown in March of last year surprised us. This year we needed a feasible alternative. How about an Oasis Workshop at home? How could that be done? The welcome could be a video tour – available on YouTube – of the house Marienland, of Mount Schoenstatt, the Adoration Church, the Founder's tomb … a live-streamed time of prayer in the Shrine.  In addition, "supplementary" material could be provided: for the opening session, a Morning Prayer for each day, events for the afternoon, inspirations for the Sacrament of Reconciliation, two talks on CD, some little surprises, a joyful evening… Can we dare it? The response was great! One hundred and seventeen women registered.
This mammoth project was only possible because of many helping hands.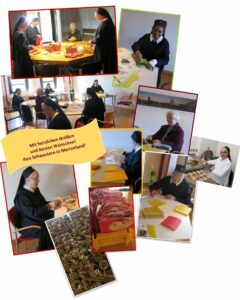 Some feedback on the day:
"In this year of the coronavirus pandemic, 2021, I am participating with more than 100 women in the Oasis Days for Women and Mothers. But not in Marienland, rather at home. Very unusual, extraordinary, just different–thanks to the pandemic. The materials for the workshop were sent by mail. Everything was lovingly packed, bright colored, spring-like bags contained the materials for each individual day; encouraging messages printed on small, cut-out hearts were included."
"The Oasis Days at home were a tremendous success, starting with the invitation and concluding now with the closing letter and evaluation sheet. The package was full of surprises, beginning with the packaging–the colorful bags were so attractive, inside many small items such as holy water, vigil lights, the little baked shrine confection, festive coffee, retreat materials, and something to munch on during the entertaining evening. I was especially impressed with by the organization of the each day: Arrival, a CD with an inspirational message to awaken gratitude, to prepare our hearts for the Holy Mass in the Original Shrine, and then the highlights: the covenant day on the eighteenth of the month and the Feast of St. Joseph. The fact that Mrs. N. and I could meet every day and begin morning praise together increased my joy."
In their minds and hearts the particpants were really in Schoenstatt. This was expressed, for example, when on the day of arrival two participants traveling by bus phoned. We just wanted to say that we will be arriving in Schoenstatt in an hour. This was a usual message usually from the paritcipants traveling by bus to Schoenstatt.
Also, their message at the end of the workshop: "We are home safe and sound!"
One of the participants shared that she stayed in her home shrine for a while after the talk. She said: "In Schoenstatt, we don't go to the dining room before the meal because we don't want to be in the way of the staff."
Another wrote: "I decorated an altar for myself with a candle and a small cloth. With my heart and in my memory I was fully in Schoenstatt; it's atmosphere was present."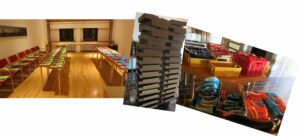 The circle of participants grew "under the table," so to speak: "I lent my daughter the inspirational CD."
 "My husband and I did the conference together at home."
"We divided the shrine confection into four parts so everyone could taste it."
"My grandson watched the video of Marienland with me. When the pictures of the dining room and the cafeteria appeared, he asked, 'Do you really get such good food there?!' which, of course, I proudly confirmed."
The attachment to Schoenstatt was fostered and kindled anew. This fact was confirmed by feedback as follows: "I can only say: Schoenstattland – my homeland!"
"I am overwhelmed by the love of God and of our Blessed Mother that is flowing to us from Schoenstatt in this confused time."  
 "If I didn't have Schoenstatt, I would have to suffer spiritual hunger. Now I can look forward to a message every day for the next few days."
"This was great and was designed with a much love so that one could be immersed anew in the Schoenstatt world …!!!"
 "We lit the vigil candle from the Original Shrine on the 18th, and it burned until the end of the live-streaming at the Original Shrine of the burning of the notes indicating our sacrifices."
 "Thank goodness for modern media! I wonder if we would have used such a wide variety of media platforms to connect with each other had it not been for the coronavirus.  We can discover good in all this–although we wouldn't have needed the coronavirus for such a long time (to do this)."