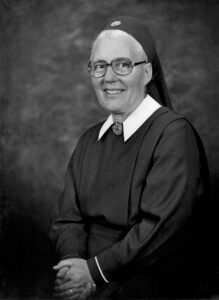 Sister Mariwarda
entered our community in 1946 at the age of 23. Because of her outgoing nature, she was involved in the pilgrims' movement in Schoenstatt from the beginning and was able to introduce many pilgrims to the Shrine of Grace, to Schoenstatt's spirituality and to its founder, Fr Joseph Kentenich.
sent to Australia
When the first Sisters were sent to Australia in 1951, she also volunteered for the new mission and was able to follow them in 1956 with four co-Sisters. She was a true pioneer, open and positive towards everything new, not afraid of any problem and ready to calmly accept surprises. With humour and cheerfulness, trust in God and service to others, she fulfilled her respective tasks.
When she received a bouquet of roses shortly before she died, she returned it to the sisters with the request to take it to the Shrine and wrote a short prayer:
"Heavenly Father, each rose, a renewed yes to your wishes.
Let every thorn say to you, 'Father, forgive my grumbling and complaining.'
Hold me tight in your hand."
That was the essence of her short life: holding on to the hand of the heavenly Father with a ready yes to His desire and will.
She learned to appreciate Australia, had an eye for the beauty of nature and people and their hardships without thinking of herself. "She was never in a hurry," said a woman from the parish, "had an open heart for everyone, listened to us calmly, encouraged us and always lifted us up."
firm support in God and in the community
Her firm support in God and in the community gave Sr Mariwarda courage to take on new ventures right at the beginning of our mission in Australia. Soon after her arrival in Western Australia, she and a co-sister were sent to Sydney in the east of the country with the idea of establishing a second filiation there. Courageously the two sisters set out on the long journey to Sydney – at that time, a train journey of 3 nights and 2 days – to run the household of an elderly lady who at the same time offered them the opportunity to study teaching.
Courageously, Sr. Mariwarda took on every difficulty associated with this new adventure: Study in the evening, work during the day and, in the spare time, begging for financial help to buy a house for our Sisters in Sydney. She dared everything for Schoenstatt in Australia without sparing herself.
pioneering work
After a few years of teaching, she was again entrusted with pioneering work in helping to build up a new parish in a rapidly developing residential area in the west of Sydney. This was so much in keeping with her nature. When people asked her at one of the first meetings why she had become a sister, she said quite simply, "to lead people to God and to give them a home". "Then you've come to the right place," was their spontaneous reply.
With the total commitment of her person, she dedicated herself to her task, which today would be called a pastoral assistant. But she was much more. She organised the catechetical lessons and the entire parish life, dedicated herself to the Sisters as Superior, assisted the parish priest with words and deeds, was mother to the people, counsellor to the families, friend to the children. As president of the Vincent de Paul Society, she was able to help alleviate the poverty of many. With her joyful, unpretentious and original manner, she was popular with the people and welcome in every committee. With her bubbling wealth of ideas, she created much life and joy.
She brought many people to the Schoenstatt Shrine and opened their hearts to Schoenstatt's spirituality. With zeal she made the Father and Founder, with whom she was deeply united throughout her life, known as a proven advocate in many circles.
farewell greeting
In her farewell greeting a few days before her death, she thanked her community, the Schoenstatt family and all the friends who had accompanied her, especially in the last few months.
"If God grants it to me," she said,
"I will care more in eternity for all those I was privileged to serve in Australia
than I was able to do here on earth." And she added, "especially for your children."