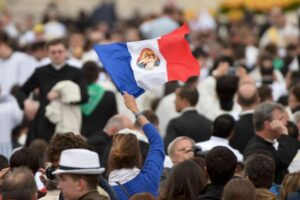 It is a joy and a sign of hope that, through the Pilgrim Mother, even in the time of the coronavirus pandemic new innitiatives are possible and  continue to grow
in France and in French-speaking Switzerland :
In May 2020, about 200 people in the French-speaking area of Switzerland and about 100 people in France prepared to give the Blessed Mother a crown. They were inspired by the CORONAmater initiative of Schoenstatt International.
During the year 2020, a new Pilgrim Shrine was sent out to each of the French-speaking cantons of Switzerland. Among others: to young working adults, to the seminary, to hospitals (by a specialist in epidemiology), and to wider circles through a grocery store …
One thousand copies of a new companion book to the Pilgrim Mother, with an introduction to Schoenstatt in French –"Sois mon guide" ("Guide me") – will be printed and will reach all the regions.
Since the apostolic trips to France had to be canceled in March 2020 and in the fall, various meetings have been held as video conferences. This also has advantages and awakens life.
Twenty people in the Paris region sealed the Schoenstatt covenant of love. And another 15 people are preparing for it.
On January 17, 2021 the enthronement of the "Mother Thrice Admirable of Schoenstatt" in the church "Notre Dame des Champs" in Paris (Montparnasse) took place, with the request that SHE prove to be the "Queen of physical and mental health" took place:
Mary, Mother of God, glorify yourself in the current situation of the pandemic!
Heal us physically and spiritually!
Give us peace, joy and fiery missionary zeal!
We consecrate Paris, France to you … and each one of us!
Contributions to the capital of grace are welcome through this virtual jar
for the throne of the MTA in Paris and beyond:
On several evenings, couples from Pilgrim Shrine circles were invited to a Zoom meeting with the theme: "The personal ideal and couples".
One couple wrote: "Thank you to the couple who gave their testimony. They showed us that when one is happy, the family is also happier. This meeting was very good for us as a couple. To connect with other couples is very enriching. It gives impetus to move forward personally and as a family toward more peace, more true love, more joy. In summary: These evenings – a gift!"  J. & E.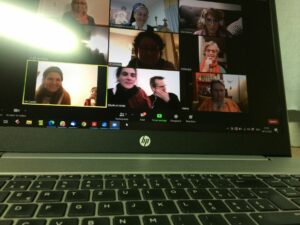 There was a spontaneous invitation via Zoom to celebrate a moment with the Blessed Mother on March 25, 2021–to pray, to have a coffee together, and to share about gratitude in daily life. It was good to see faces from Paris, Dijon and all the French-speaking cantons.
Yes, wonderful things are happening – also today!
Thank you, Pilgrim Mother of Schoenstatt, for touching
French-speaking people!