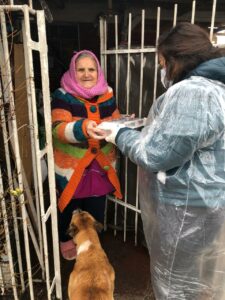 The cafeteria "Hogar de Maria" (Mary's Home) in Santiago was founded many years ago by the German missionary Sister M. Adelfonsis to ensure that children from needy families received a hot lunch every day.  Since the children can now eat free of charge in the state schools, "Mary's Home" has been changed primarily to a place for providing food to the homeless and other needy adults.
Street Project (Project of the Street)
With the onset of the pandemic and because of hygiene regulations, we were forced to close the doors of our cafeteria "Mary's Home" where around 70 people from situations of extreme need and poverty met daily to have lunch.
It was a completely new situation that came upon us, as a surprise to all. Because many people were unemployed and therefore were not in a postion to  earn their livelihood, poverty and need increased with the pandemic. We did not want to leave those who needed it most without a daily meal. So we decided to knock on doors.