Sister Maria Hroswitha Jochheim
August 6, 1904 –  July 22, 1998
Sr. M. Hroswitha was born on the feast of the Transfiguration of Christ, on August 6, 1904, in Ikenhausen, Westphalia. She was the youngest girl of eight children.
When did she hear about Schoenstatt?
Early in the 1920s, Sr. M. Hroswitha heard about the Apostolic Federation of Schoenstatt while studying at the Universities of Bonn and Muenster to become a teacher. Still a student, she joined our community on May 1, 1928, not quite two years after its founding. After her novitiate, Sr. M. Hroswitha could continue her studies. At that time she got to know Edith Stein in Muenster. Therefore she later wrote a recommendation for her beatification to Rome.
Where did she serve and work?
On December 27, 1933, Sr. M. Hroswitha was among the first sisters to be sent by Father Kentenich to the missions in South Africa. She taught in Cathcart until 1942, then in McKay's Nek until 1943. She also worked in her profession in Queenstown and served there as superior of the sisters until 1949. In a difficult and poor founding time, she did not shy away from any work or effort to serve the establishment of the first missions.
When Father Kentenich visited South Africa in 1947, he asked her if she could move to another part of the world, to the United States of America. On September 10, 1949, she arrived with two sisters from South Africa in the harbor of Corpus Christi to make a new beginning once more.
Sr. M. Hroswitha was imbued with a great mission zeal and sacrificed everything for the fulfillment of our great Schoenstatt mission for the Church and world. She was deeply gripped by this mission and possessed a great apostolic fervor. From September 1949 until 1967, she served as the regional superior in the USA. Her tireless zeal in her work and apostolate as well as an austere spirit of poverty characterized her striving. Father Kentenich's words of farewell in South Africa to Sr. M. Hroswitha, "First build a shrine for the Blessed Mother, then she will build you a home," were the guiding star and source of strength for her. His words were fulfilled! Ten years after her arrival in Texas, Sr. M. Hroswitha, together with the small region, could give to the Blessed Mother a Shrine of Thanksgiving and a movement house in Rockport-Lamar near the Gulf of Mexico.
What was Sr. M. Hroswitha like?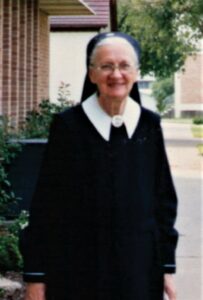 Sr. M. Hroswitha possessed rich intellectual and practical talents and placed them selflessly in the service of the community. She was very diligent, and she loved to pray. Through an extensive correspondence she could give help and comfort to many people, and she prayed for them. For many years she was the procurator of our community in Texas. She was an educator in the community, a translator, and taught religion, language, and music classes. No job was too low or too much for her. As long as her strength permitted it, she liked to work for some hours in the garden and often helped prepare vegetables in the kitchen. It was a special joy for her that she could be responsible for the Founder Secretariat, for Father Kentenich's cause of canonization.
A co-sister described her this way:
"She was a genuine, faithful, and credible Schoenstatt Sister of Mary. She was an example of great strength and faith in divine providence, serving the sisters of our community and the people entrusted to her with great love and mission zeal."