For about a year now, our sisters' house in Romania has been well reinforced with Sr. Marie-Gudrun. In an interview already published, she gives us an insight into how she is doing in another European country.
Sr. Marie-Gudrun, what moved you to make the decision to come to Temeswar in the Diocese of Temeswar?
Since the end of my term as provincial superior I have prayed every day for Romania so that a solution would be found in view of the establishment of a branch house. The future of Romania therefore moved me from within and I have always supported the cause as a "child of my heart." Therefore my joy was great when in the spring of 2029 the first branch house was founded with three sisters in Temeswar. In early summer of that same year "the angel of the Lord" brought a new "message" for me.  It was the request if I could go to Romania to help and support the sisters in Temeswar. Despite all my connections with Romania, until then I had never thought of a concrete assignment on site.
But then again "my sentence" came to my mind: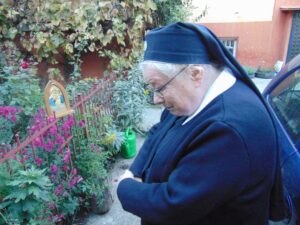 "The most important thing is to always be where God wants us to be."
Our founder, Father Kentenich, once said to a sister that "God's blessing reaches her now where she is supposed to go." So not where I would like to stay if it is not God's will.
Although it was not a question for me to say yes to the will of God, there was nevertheless a time of weighing the pros and cons, especially in view of my already advanced age. The deciding factor for my decision to go to Romania was the that I already had a relationship to this country and that I know the sisters who are there. Also the fact that these sisters would be happy about my coming motivated me and made the step easier for me.
Have you met people in Germany who came from Banat and emigrated? What did you know about Banat, about Temeswar before you came here?
In Germany I have had no experience with people who came from Banat. I only knew that people from Banat or Batschka lived in a district near my hometown Schweinfurt. To some degree they cultivated their traditions from the old homeland and I had the impression that their common origin created a sort of cohesion.
You have been in Temeswar for a year: What experiences have you had here in the course of this year?
A very positive experience at the beginning of my stay here was the house dedication.  The fact that the bishop of the diocese Most Reverend Josef Pal and many priests participated in it gave the impression that this house will have significance. The liturgical celebration that was co-prepared by members of the Movement and the multilingualism created the atmosphere of a family of people gathered around a central point.
The coronavirus pandemic "provided" me a special experience
For the first time in my life I was restricted in my freedom of movement. Age-related and officially mandated, I could only be outside two hours a day–with written proof. Fortunately there is a bit of garden around our house, at least some nature in the sea of houses. We were able to experience our little house chapel as a great gift. It is the spiritual center of our house, an oasis. Here we begin and end our day. Here we bring our prayer requests and the concerns of many people to the Lord and his holy Mother. Here we find inner peace and security. The fact that we could attend Holy Mass here almost  every day during the weeks of the coronavirus period when no church services were possible was a gift that the good Lord gave us.
We used these weeks of limited external contact to do creative things in the house and garden as a community and had much joy doing so.
In this time I also began to study the Romanian language. A retired, single woman made herself available for this.  The lessons were given over the telephone and continued for the next few months. I realized again and again that learning a foreign language at an advanced age is not easy. I marveled at the patience of my "teacher." It also awakened in me understanding for co-sisters or other people who have to learn the German language. What motivated me to learn Romanian at least in the beginning is the experience I have over and over in my daily life: One is often helpless if one cannot understand, for example, when shopping, when conversing, etc.  It deepens the realization: When I am in a foreign county, I must try at least try to understand the people there linguistically. Sometimes a simple word of greeting, saying "please," and "thank you" is a help to make friendly contact.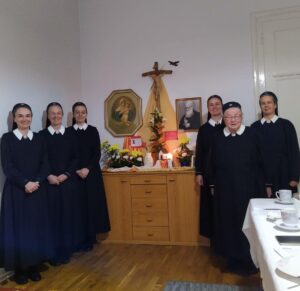 As a conclusion of my experiences, I can say that the stay in Romania this first year has greatly expanded the horizon of my life and that getting older can bring chances for new perspectives, new joy of life and still a certain touch of youthful exhilaration.
It is also nice to be able to fulfill another task that contributes both inwardly and outwardly to the growth of something. I am grateful that I can help provide strength so that the Schoenstatt Movement in Romania becomes a blessing for the Diocese of Temeswar and fruitful for the entire country.
How do you experience the multilingualism of the Diocese of Temeswar and the diversity of ethnicities, peoples, and traditions of our diocese?
The multilingualism gives the diocese a vibrancy and diversity. Actually this one "model," is an example for Europe. Where people can communicate in several languages, they succeed in getting along better with each other better, understanding for each another grows, and this has a culture- building effect. It is easier to tolerate each other, to value differences. The different traditions complement each other and allow us to discover each other's "treasures."
Thank you very much, Sr. Marie-Gudrun!
Links with further information:
– German
– Hungarian
– Romanian