Candidacy in the Secular Institute of the Schoenstatt Sisters of Mary will Begin in February 
After a long period of decision-making, after intensive study of the German language, and still in the midst of the coronavirus pandemic, on February 1, 2021, eleven young women so far from Australia, Brazil, Chile, Germany, Austria, Poland, and Vietnam, have taken the first step on the way into the community of the Schoenstatt Sisters of Mary.
Here some of the candidates give us testimony of what this means for them:
Thalita: For me, it's a great joy and a miracle of mercy that I can already be here in Germany! I can hardly believe that I have been called to this way of love and to walk it together with my future course sisters.
Aline: It is undoubtedly a great gift that I was chosen by God to be able to come here. I feel blessed to be able to experience Schoenstatt more deeply, not only at the Original Shrine and other places, but also in the heart of each of my future course sisters with their culture and originality. It means living the "Ita Pater" [Yes, Father] every day, always answering with a yes to the call of love, trusting that at every moment God leads us upward.
Larissa: For me, to begin the candidacy here in Schoenstatt in an international course in the present context of the Church and world means to give witness that my path of life until now has led me to this moment. Today I am totally happy that I was able to give this answer of love to my vocation. I believe that in no other place would I be as happy as I am in this community.  Here I find everything I need to make Mary present anew in our world, together with my future course sisters who are striving for the same goal as I am.
Lan: Someone once said, "It is never too late to begin anew!" and so I am ready and open for everything new that comes my way. I believe that I am not alone, that God is with me, and that the Blessed Mother will surely accompany me in the covenant of love.
Yen: For me, it is a miracle that I am here. I realize that I have been given many gifts of grace. I waited two years in Vietnam for this moment. It was very difficult to obtain a visa in my homeland. But God has led me to this place, to this candidacy, and this is for me a confirmation of my vocation.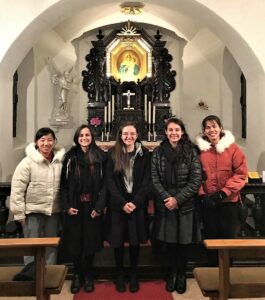 Currently some of these young women are living in Providence House in Koblenz-Metternich in order to learn the German language. On February 1, 2021, they will all begin candidacy together, which will be followed by a postulancy of several months starting on May 1, 2021. This period allows them to get to know each other and is the first phase of introduction to the community. The second part consists of a two year novitiate which concludes with the official acceptance into the Secular Institute of the Schoenstatt Sisters of Mary. A very important step on this path is the investiture, during which the novices receive the dress of a Schoenstatt Sister of Mary and their self-chosen name as a sister.
An international course is a great richness. The course sisters are united by an ideal in which they choose Mary as their model. Despite cultural differences, different languages and circumstances, they walk together to bear witness to the work of God and to be there for people in the twenty-first century.
If you are interested in this path or have questions regarding your own life decision, please use the following link: Website or E-Mail.