For me this is a Dream Job!
An Interview with Sr. M. Anna-Simona Menz, Schoenstatt
by Sr. M. Linda Wegerer
Sr. M. Linda: Sister M. Anna-Simona, we are sitting here very pleasantly in the entrance area of the Marienland Retreat Center—and that on a Sunday afternoon! Under ordinary circumstances this would actually be impossible for you because you work here at the reception desk.
Sr. M. Anna Simona: Yes, you are right. But in the midst of the coronavirus pandemic absolutely nothing is normal anymore. This is the case here in the retreat center also which we had to close for the second time at the beginning of November.
Sr. M. Linda: How are you doing personally in this situation?
Sr. M. Anna-Simona: Basically better than during the first lockdown. At that time it was simply incomprehensible to me. I thought: It cannot be that we simply close Marienland. But it was! Some groups themselves canceled. Others I had to cancel. The worst for me is cancelling groups that want to come to us! After all, I want to be there for the people.
Sr. M. Linda: Yes, I can understand that. Especially because I experience you here at the reception area as a co-sister who fulfills her task with great commitment.
Sr. M. Anna-Simona: Yes, I like my work very much. For me this really is a dream job! I can't imagine anything better. It is so versatile and varied. And imagine: Although I have been at this job for so long now, things still happen that I have never experienced before.
Sr. M. Linda: That's a good keyword. How long have you had this task in Marienland at the reception desk?
Sr. M. Anna-Simona: I came to the Province House in Marienland in 1999 as a novice. Then in August 2002 to the Retreat Center—first in the service area. And then in March 2007 to the reception area. So I have had this task 13 years already.
Sr. M. Linda: You said that your task is varied. What does it all involve?
Sr. M. Anna-Simona: My main task is my presence. Our reception desk is open 12 hours a day. I am there for the arriving and departing guests and for the many question they have that need to be answered. Then various administrative tasks belong to my area of work such as preparing invoices and the like.
Sr. M. Linda: But you can't be present alone 12 hours a day at the reception desk.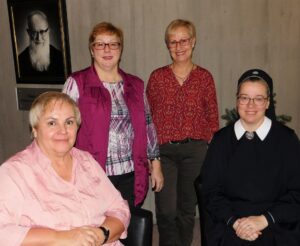 Sr. M. Anna-Simona: Of course not! I have co-workers.
Sr. M. Linda: Once you told me that you completed your training in hotel management before you joined us.
Sr. M. Anna-Simona: Yes, I grew up in the hospitality industry, so to speak—already as a teenager it was clear to me that I wanted to get my degree in this.
Sr. M. Linda: And yet you didn't take over your parent's hotel business but landed here at the reception desk in Marienland as the manager of this retreat center. How did that happen?
Sister M. Anna-Simona: Already as a child I was allowed to participate in events of the Schoenstatt Girls' Youth. I really like them. This continued for a few years—and later I took on responsibility myself. From a certain point on, it was understood that Schoenstatt was part of my life. Then in 1996 when I finished my degree in hotel management, I felt a certain restlessness in me despite my satisfaction at achieving it: Was that it? Is that all that you want from life? And—what does our dear God actually want from you?
Sr. M. Linda: Sounds familiar somehow!
Sr. M. Anna-Simona: I felt I had to make a decision: Should I choose a virginal path in life—and if yes, then I will become a Sister of May—or should/will I want get married and have a family. Well, you can see now what decision I have made.
Sr. M. Linda: Were your parents disappointed with your decision?
Sr. M. Anna-Simona: No! They gave me freedom to go my way. My mother said, "If that's your choice, then it is right."
Sr. M. Linda: Sr. M. Anna-Simona, we are celebrating 100 years of the women's movement in Schoenstatt in this extraordinary year 2020. I would also like to ask you what you wish for this anniversary.
Sr. M. Anna-Simona: I wish for all women to recognize more and more the value of being a woman and their own personal preciousness. And that they will happily live their lives from this. It is a great joy for me to experience that a stay in our house can contribute to this.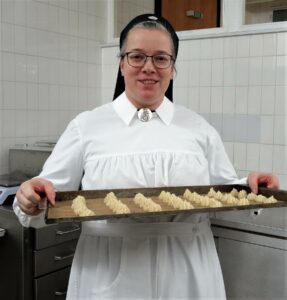 Sr. M. Linda: Thank you for this interview. But now we have to end. Despite the lockdown you are not lacking work. I see you "working" at the most varied places here in the house!
Sr. M. Anna-Simone: Yes, thank God, we will never be without work. But I can also tell you: I have never helped so many hours as in this year to bake Christmas cookies!
Sr. M. Linda: If that's the case then I don't want to delay you any longer, because I am looking forward to these cookies very much!