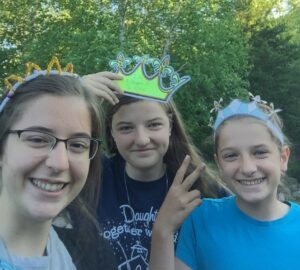 For more than six months we have been challenged with the pandemic of the coronavirus. Here in the Midwest along the shores of Lake Sleepy Eye, in the shadow of our Jubilee Family Shrine, we as Schoenstatt Family have met this challenge with the coronavirus by turning to our Corona Mater, Mary our Queen-Mother.
Crowning the Blessed Mother and acknowledging her power given to her by Jesus when he crowned her Queen of Heaven and Earth has become our way to victory during this time.  Father Kentenich encouraged us, as he did in great need, to crown Our Lady. He was convinced of her powerful intercession.
The Mother of God is regal in her intercessory power
"The Mother of God is truly a Queen. She is a Queen in the kingdom of mercy, in the kingdom of kindness through her intercession, that is to say, she is regal in her intercessory power because she is the Queen-Mother. She may and must prove again and again that she is the suppliant omnipotence in our needs, our economic as well as our religious-moral needs… She can achieve everything with her Son through her intercession. She will glorify herself." (Sign of Light for The World, Father Kentenich, p. 47-48)
Our mission, as a part of the Schoenstatt Movement, to help in the moral and spiritual renewal of society, is an overwhelming task today. How could we continue serving our mission, especially the mission for families as the foundation of this society, with the coronavirus turning into a pandemic?  How could we support our families and accompany them through this time, using it as a time to grow in holiness? Soon the answer was found. Divine Providence provided it for us – Corona!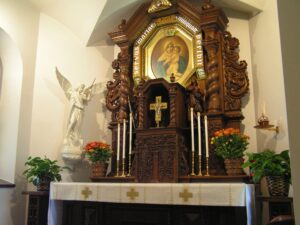 Corona for Corona. Crown for a crown.
We turned to the Blessed Mother, our Corona Mater, our Queen-Mother, to offer her the crown again and again, in every situation – in this challenge, this suffering, this fear.
With this, a crowning trend began from our Jubilee Family Shrine and we have experienced many miracles, many victories that only the Blessed Mother with her Divine Son could bring about, making it possible to continue our work for the movement in this way.
We wish to share a few of these miracles with you:
With each one, our love and surrender to the Blessed Mother, our trust in her and our willingness to be her instruments to bring about many more victories, has increased so that we proclaim as Father Kentenich did on September 7, 1968:
With hope and joy, confident in the victory, we go with Mary
into the newest times  (the times we are now facing).
A young mother, eight months pregnant, contracted the coronavirus. She was hospitalized and her condition was very serious. We crowned our Corona Mater the Queen of her health and that of the unborn child. After some time, the mother recovered and one month later delivered a healthy baby. Thank you, Corona Mater.
Since the doors of our retreat center are closed, we discussed how we could offer a "summer program" for the youth. Our Blessed Mother was crowned – Queen of our Schoenstatt Summer. The door opened that it could be done via the internet and by sending a package to each girl who would participate with the needed materials for the week of camp. The next step was to crown our Mother as Queen of Technology so that all would work well for the five weeks of camp. More than 300 girls responded to the invitation to attend the camp, and the technology worked perfectly day after day, giving the girls and their families a beautiful experience of camp in the "shadow of the Jubilee Family Shrine." Thank you, Corona Mater.
♥   During the months of this pandemic, we have received many phone calls and requests to pray for family members and loved ones who were suffering from the coronavirus. Again and again, the Blessed Mother was crowned Queen of each one and their healing. To our knowledge, our Queen has interceded the healing for each one. Thank you, Corona Mater.
♥   In September of each year, a Schoenstatt Family Weekend is offered to families here at Schoenstatt on the Lake. Since our doors were still closed, we prayed for another door to open to be able to serve our families. Soon we were inspired to offer a family weekend in a "box" so that the families could have the weekend right in their own homes. The Blessed Mother was crowned as Queen of the Family Weekend. Our petition was that at least 50 families would join us. The invitations were sent out and we waited to see the response. For the first few weeks the number stayed around 25. We crowned again and again. In the end 80 families took part in the weekend. That meant that over 450 people participated in the weekend, drawing families closer to their mission – The Family, a Kingdom of Love and Joy. A bonus to the weekend was a binder sent to each family with material for their striving from October of this year until May, 2021. What a gift to be able to serve our families during this time. Thank you, Corona Mater.
♥   A police officer working in the heart of the riots in Minneapolis has asked us again and again to pray when the danger was very great. Immediately the Blessed Mother was crowned as Queen of this police officer and all police officers. To this point, he has been protected. His young family is very grateful. Now they have also crowned an MTA picture in their home and offer little contributions to her for her protection over their family.
♥   A young mother expecting twins went into early labor and had to be hospitalized. The Blessed Mother was crowned Queen of the mother and of the twins. Hospitalized, the twins "waited" a bit before arriving and mother and babies are healthy. Thank you, Corona Mater.
♥   Little Benjamin who was born with serious heart defects was to undergo another complicated surgery. This was the most dangerous of all the surgeries he had so far.  The Blessed Mother received the crown as Queen of Benjamin and all those taking care of him.  The surgery was a success and Benjamin has recovered well.  Thank you, Corona Mater.
♥   Our mission to lead many to the Blessed Mother so she can lead them to the Triune God has proven to be very fruitful through our crowning stream. It has allowed us to work in another way but a way that has proven to be a blessing for us, for our movement, and, we believe, for the Church and world.  A greater peace and trust in the loving providence of our Heavenly Father and the tender intercession of our Queen-Mother carries our families and Schoenstatt members through this time so we can say and live –
With hope and joy, confident in the victory,
we continue to go with our Corona Mater, our Queen Mother, to build the Marian Father Kingdom from our little spot on the shore of Lake Sleepy in the shadow of our Jubilee Family Shrine. Thank you, Corona Mater!