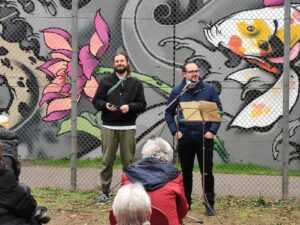 The graffiti artwork of Raimund Mylius and Pierre Steinbeck, two artists residing in Trier, is impressive. Within six weeks, they brought epic animal and nature themes to life on the 45-meter-long by 3.5-meter-high wall bordering the park of the Schoenstatt Sisters of Mary.
On background tones of gray and brown, colorful frogs, butterflies, fish, and eagles painted with long, rolling lines came into being. A branch shooting out from an evergreen tree creates the connection to the park that lies behind the wall.
Seeing Nature with New Eyes
In the Laudato si' Year called by Pope Francis, this graffiti art is a pleasant challenge to see nature with new eyes.
Father Ralf-Matthias Willmes acknowledged the artwork with his blessing and made it clear that the fifth day of creation, on which animals on the land, in the water, and in the air were created, has found colorful expression here.
Melanie Welsch, of the Cultural Foundation of Trier, visibly rejoiced, saying that this work promoted by the foundation was an extension of the modern cultural assets in Trier.
With few words, both artists opened the way for a trip into the illustrations inspired by the Japanese art of painting.

A Network around the Schoenstatt Center in Trier
The musical framework of composer Anja Geischecker made it a very entertaining and at the same time inspiring afternoon for all visitors.
The dedication celebration on the 106th founding day of Schoenstatt followed a festive, open-air holy Mass in the park of the Schoenstatt Center. Father Jörg Schuh was impressed by the afternoon and by the fact that such a network connecting so many people has come into being around the Schoenstatt Center in Trier. "It is beautiful that the shrine is alive," as he expressed his experience that afternoon.
"That is great! My congratulations on this project." – "It makes you want to have a wall around your own house."
Everyone who would like to visit the artwork, the park behind it, and the little Schoenstatt chapel in the midst of ancient trees, safely and unhindered even during Covid, can let the enthusiasm of this day's visitors rub off on them.
Daily hours: 10:00am until 5:00pm
Address: Schoenstatt Center, Reckingsstraße 5,
54295 Trier
Photos: Walter Baumeister